Yesterday we visited my in-laws, and their neighbor, Mrs. B, invited my mother-in-law and me to her house to look at her grandmother's quilts. (She knows I love quilts.)
Mrs. B's grandmother was not only an amazing quilter, hand piecing, quilting, and binding, she was also very talented with embroidery. There were whole cloth quilts that were beautifully quilted with intricate floral patterns and then perfectly decorated with embroidery details. I didn't bring my phone to take photos of all of them, but I wish that I had. Another was a sort of crazy quilt that was made from what appeared to be velvet men's jackets and upholstery fabric. Lots of cool scrappy quilts, interesting patterns like flowers from hexies and a hummingbird pattern. Mrs. B doesn't quilt but she has a deep appreciation for all of the work that went into these and displays them in her home. Her mother had 3 siblings, and they all divided the quilts up after her grandmother passed away, so I only got to see a quarter of the collection.

My favorite quilt, and the one that Mrs. B saved for last, was this friendship quilt that was made by her grandmother and her aunts and cousins and neighbors who lived on nearby farms. Each one made a block and then embroidered her name in the middle. I asked my mother in law if I could borrow her phone to take a picture of this one, because I loved it so much and wanted to put it on the blog, which Mrs B said was OK.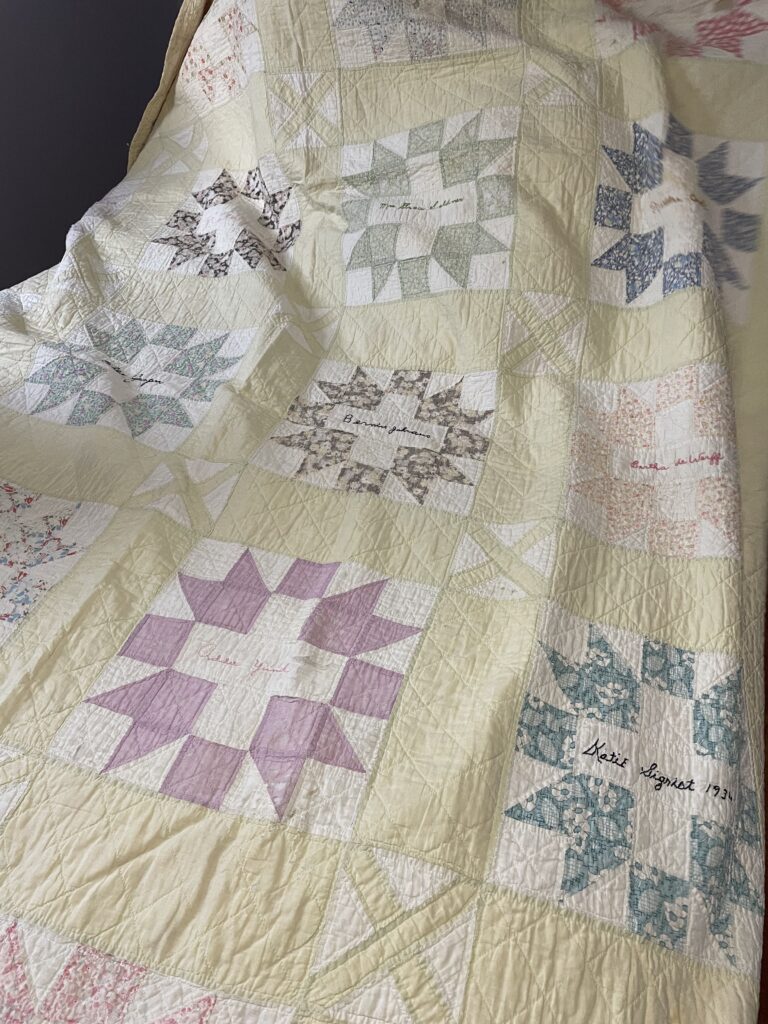 The most outrageous thing about this quilt, is that Mrs. B's grandmother kept it between her mattress and box spring to keep the mattress from sliding around. I am all for using quilts but this seems a bit too utilitarian. Mrs. B knew a good thing when she saw it though, and fortunately rescued this quilt and treasures it. She pointed out all of the names of the ladies who worked on it and knew stories about all of them. She also realized that this quilt was probably made when her grandmother was pregnant with her mother based on the date.

Many thanks to Mrs. B for caring for these beautiful quilts and sharing them with me. I was inspired to try more hand quilting and also to try to convince everyone I know to take up quilting so that I have a quilt with a name block from all of them.