A few posts ago, I showed a sneak peek of the quilt top for what I thought would be quilt number 8. Then I decided to abandon that springtime quilt for an autumnal quilt for my bed, which is king size. The giant Christmas throw I have on there now covers the bed sufficiently, but I wanted to see if I could handle making a king size quilt.

I was on vacation a few months ago in Tennessee, and on one rainy morning I left everyone behind to go to the Cherry Pit, a lovely quilt shop in Sevierville. This place was adorable, and the people working there were so kind. I picked up a couple of layer cakes and also this bag of mystery scraps.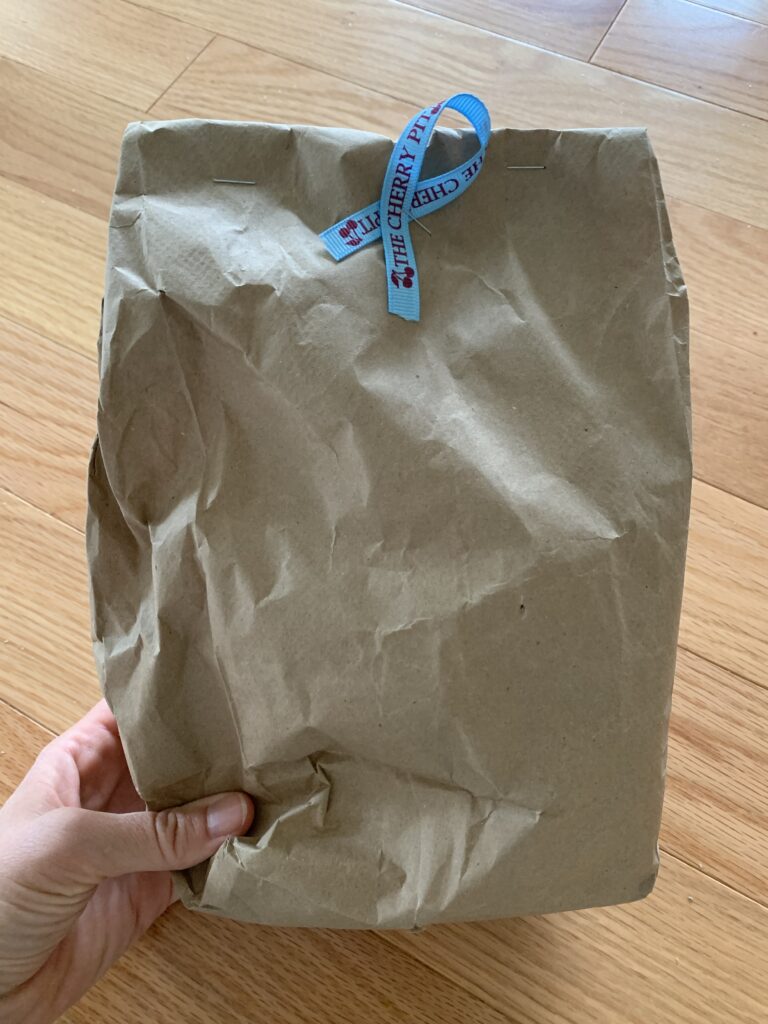 One of the layer cakes was from the Moda Songbook collection, which had some really lovely, whimsical floral prints that I liked. I wasn't sure what I was going to do with it, but I had some other florals and was kicking around the idea of a fall quilt, and I decided that the layer cake would be the perfect thing to pull it all together.

I used Amy Smart's lattice quilt pattern again, which I used for the Michigan and Ohio quilts. It comes together super fast, and this time I wasn't fussy cutting the fabric on the bias to make directional print blocks with the points facing up, if that makes sense. So it went even faster. Precuts baby!

I initially planned to use this teal floral for the cornerstones (the little tiny squares), but after I cut them all out and laid out the fabric on the floor, the color combo didn't look right.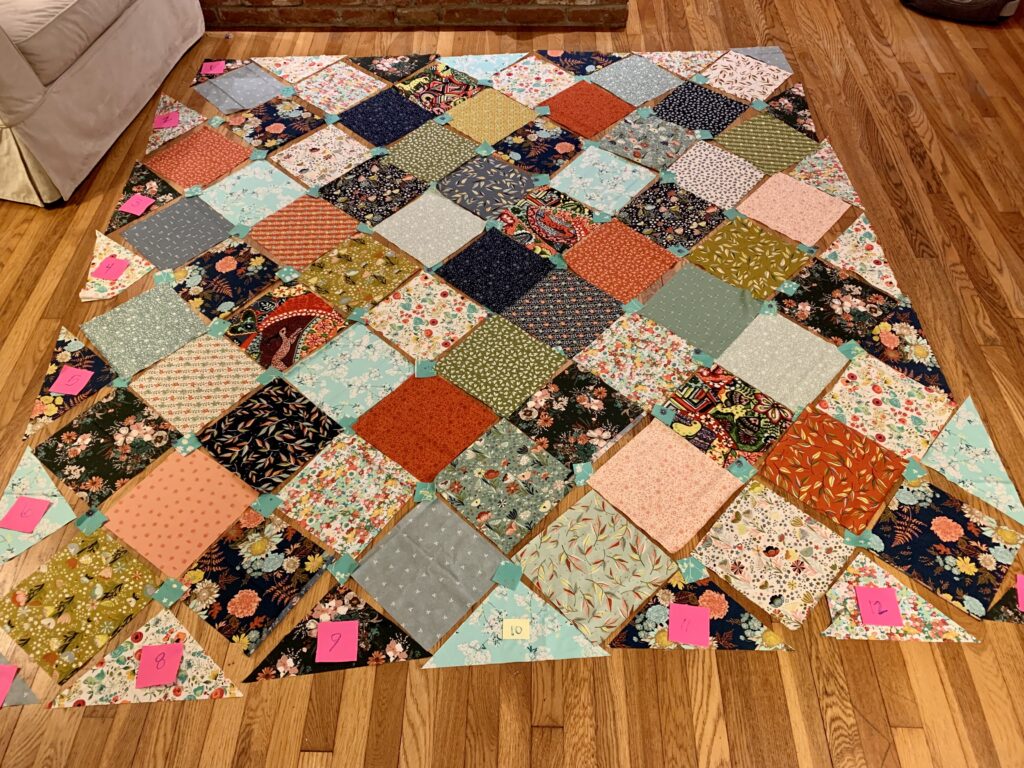 In fact, it kind of made me feel nauseous. I opted instead for a few foresty greens and grayish greens that came from the mystery scrap bag, and also took out the larger pale teal floral blocks. Now I need to figure out what to do with all of those tiny teal squares…maybe another lattice quilt is in my future.

Basting this thing was a challenge. My house is not that big, but I was able to fit the backing (just a solid backing for this) on the living room floor with the furniture either pushed against the wall or into the dining room.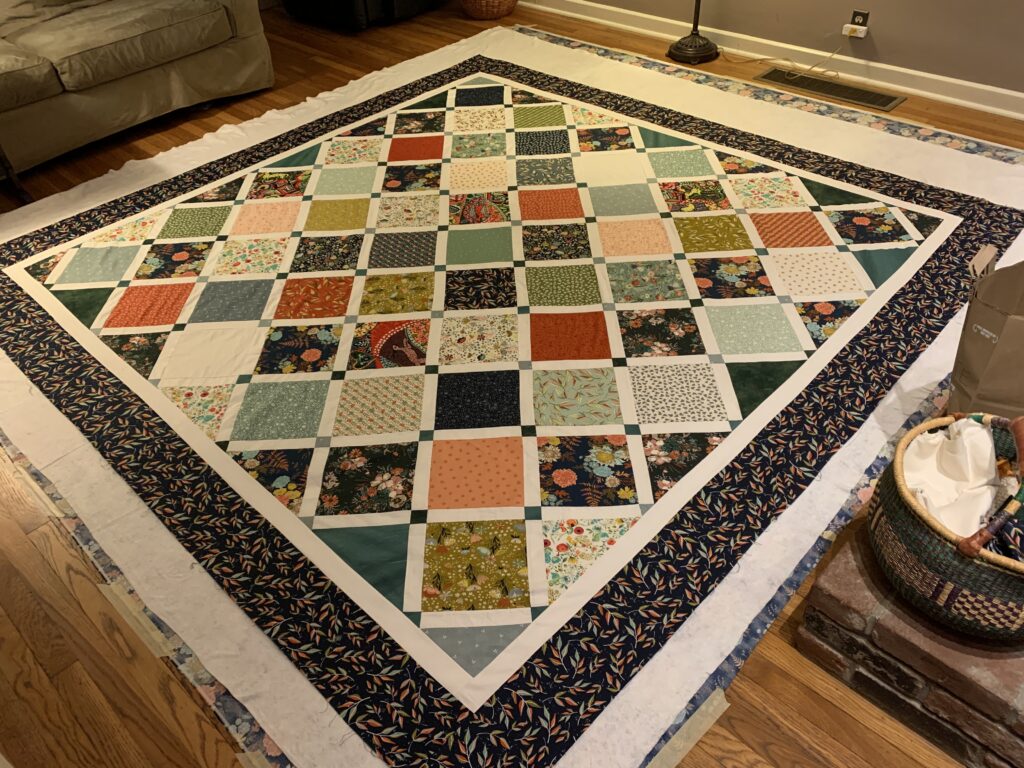 I texted a picture of this to Amanda and told her that I broke a sweat while crawling around and basting it. It took forever, but I had to do it in one night, because it was blocking the path to the kitchen.
I got a new walking foot for this quilt, a Janome, which another quilt blogger mentioned worked on her Juki TL2010Q. I wondered if I broke my walking foot because I was trying to use it at full bunny? I quilted this at half bunny/half turtle and didn't break the foot. It didn't take too long either. I used a hera marker to make creases for the quilting lines, and I was quite happy with how it turned out. FMQ on this size would have been challenging, but I think doable!

I was going to try to bind this with the backing material, but I immediately cut a hole in it when attempting to cut the batting, so I ended up binding it with the same fabric I used for the sashing, which I think looked nicer anyway.
I actually finished this quilt last weekend, but didn't get a chance to photograph it until today. Turns out it's hard to photograph a king size quilt. I found some clamps that I think my husband bought during his pandemic foray into carpentry. I really needed slightly bigger clamps to get this thing a few more inches off the ground, but this was the best I was going to do. My neighbors probably think I'm insane.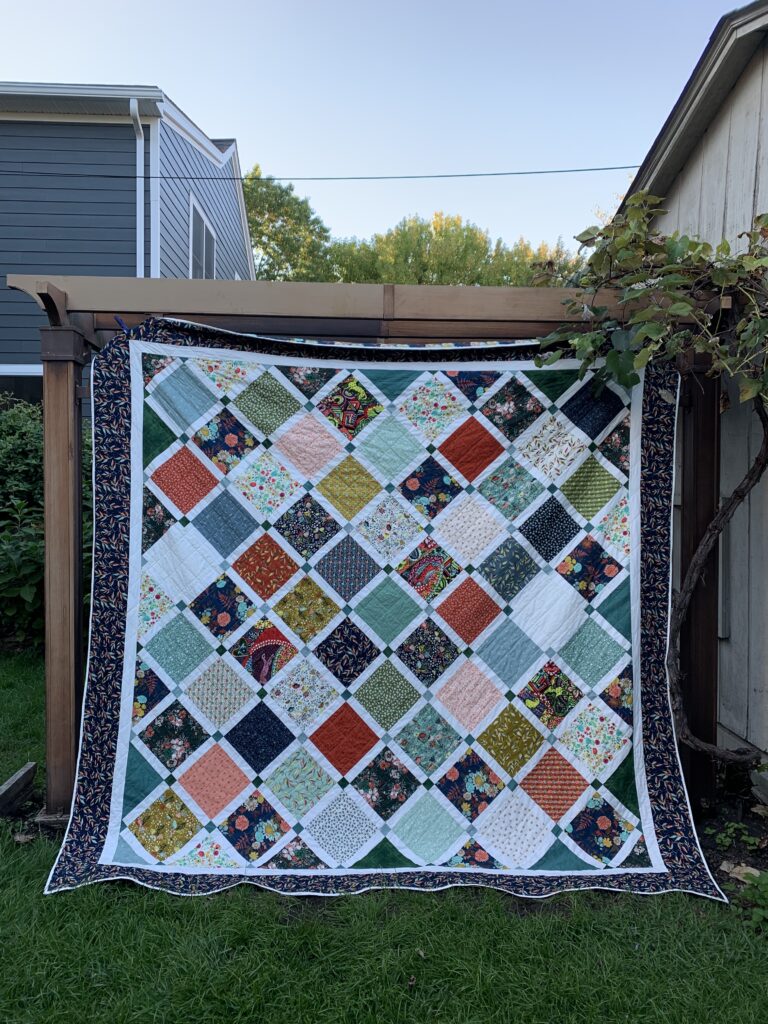 If you look closely, you'll see some bunnies, which are from a fat quarter that Amanda gifted to my daughter. I'm sorry Amanda (and Helen), I think I've stolen almost all of that fabric for my own quilts.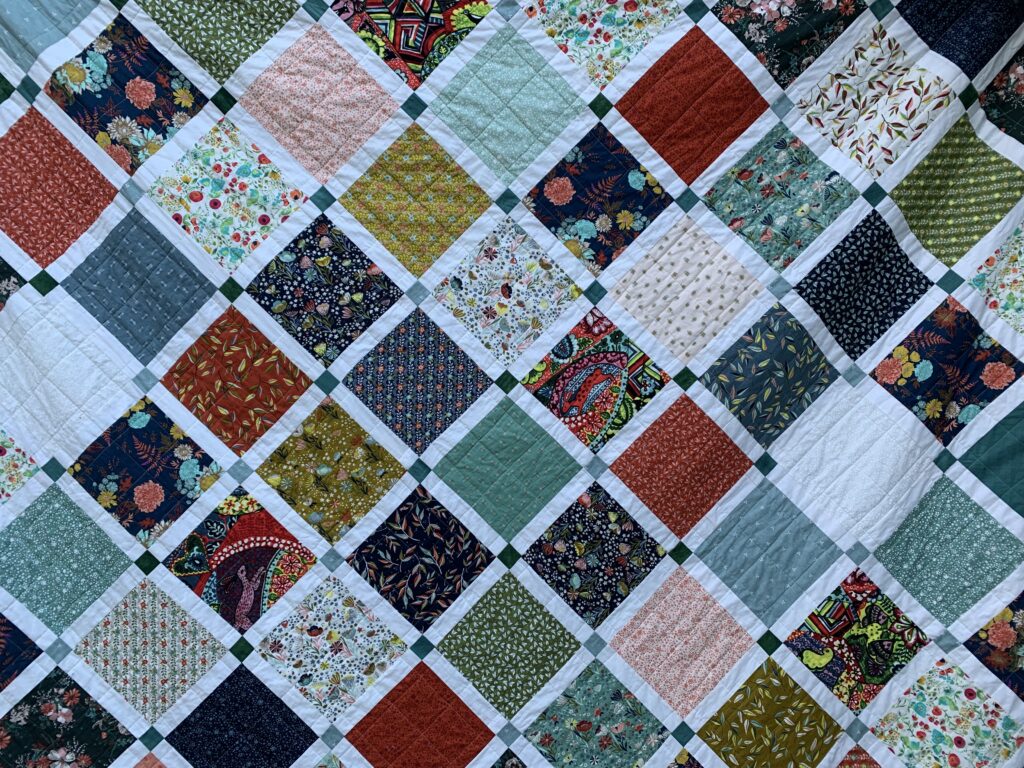 Eight is great! Eight is king! Welcome fall. My bedroom is ready.