Rachel: Why are we writing this blog?
Amanda: If I knew how to make a shrugging emoji on this blog I would put that here! I suppose because it seemed fun and what else do we have to do? Although, we have lots of other things to do, e.g. work, answer the daily question "what is for dinner?", supervise our children, build patios, study human anatomy, and, of course, sew more quilts! But still, a quilt blog seemed like a natural progression in our quest for Quilt Life.
R: YES! I agree. You're not really a quilter until you have a quilt blog. When did you start quilting and what inspired you to do so?
A: I really started quilting about 10 years ago, which seems like too many years ago to be possible. My grandma sewed and my mom sewed a little so I had a general understanding of just sewing. But, I did not know anyone who quilted and I actually can't remember why I decided to try it. I wish I had a "spark" quilt!
R: Tell me about the first quilt you made.
A: I tried to make my first quilt about 13 years ago while in law school. I planned to embroider all of the squares with an intricate flower design. (Actually, now that I am thinking about this, I think I started embroidering first and I didn't know what to do with the embroidery pieces and I thought I could make them into a quilt. So, that was how the quilting idea came to be.) After cutting eighteen 6 inch squares with a rotary cutter on my floor with no self-healing mat, I spent months embroidering two of those squares. Obviously, I never finished that project.
Then, a few years later I decided to try again with a much simpler pattern and with the cutting mat, which is a very basic quilting necessity. This went way better! I used fabric with poodles on it and gave this quilt to Wallace (my dog, in case anyone other than our moms is reading this) and he still uses it!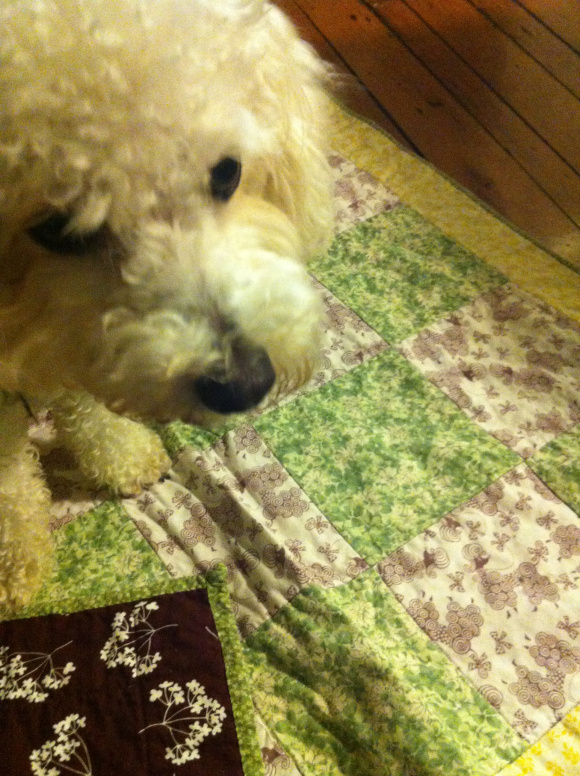 R: Ohhh, I have a feeling that a future blog post will be "I finally finished my first embroidery/quilt project, 13 years later!" What are you working on now?
A: I am almost done with a quilt for (my child) Louie's bed! It's a twin-sized quilt, which is the largest size quilt I have ever made. I will do a whole spectacular post on that thing when it's all done!
I have also been working on an English paper pieced hexagon quilt for over a year now. That has become my "travel" project or my "sit outside and appear to be supervising my kid when I am really just quilting in the sunshine" project.
R: I love the idea of a travel project! I need one. Do you have any quilting goals for the year?
A: My goal is to make six quilts this year, which is ambitious for me because sometimes I accomplish making one quilt over the course of three years. After I finish Louie's twin quilt I will have technically made three quilts already this year, but two of those are whole cloth lap quilts so I am not sure they count.
R: Whole cloth lap quilts 100% count!!! What quilting skill or technique do you want to learn or improve on?
A: I would like to learn how to make my own patterns. I think there is a lot of math involved and I am not great at math.
And, like maybe everyone?, I would like to be better at free motion quilting. My skills with my new Juki are much improved, but that is only due to the Juki. The last two quilts I made were all FMQ'ed and they are passable. But, I would like to have fewer moments during quilting when I tell myself a section will look okay after the quilt has been washed and dried.
R: I saw those FMQ quilts, they were beautiful! Tell me about your sewing room set up.
A: My sewing room is also my guest bedroom and the home office for both my husband and I. Yay, small houses during a pandemic!! We have a daybed with a trundle underneath, but instead of the trundle having a mattress it has my fabric stash! I have a table from Ikea for my sewing machine and the two leaves on the sides of the table fold down. I thought when I am not sewing I will just fold those down and it won't take up the entire room. Of course, those two leaves are covered in fabric, rulers, quilting gloves, pins, millions of threads, etc. and they have never been folded down. The work desk is on the opposite wall. If Nick (my husband) is on a zoom call I love to imagine what people are thinking about the mess behind him. "Is that a gigantic mountain of superhero fabric behind you?" "Yes, yes it is."
R: I am very jealous of your fabric trundle! I would be constantly sliding it out to admire the stash. What are your not-directly-related-to-quilting items that are essentials while quilting (for example, I almost always have a cup of tea close by and am almost always wearing my airpods and listening to podcasts when I quilt)?
A: I love this question! I also like to have tea. I usually have my airpods and I talk to my mom on the phone until she goes to bed. Nick is usually working in his office two feet away from me and I try to talk to him, but he mostly doesn't respond. Sometimes I listen to audiobooks, I should try to remember to download a new one.
I really need to be better at the podcasts. What podcasts do you listen to? I can't handle anything remotely stressful, so I can't listen to any podcasts about anything happening in the world today. Last night I tried to listen to a podcast called "Happy Place Podcast" because that sounded like something I could handle, but it didn't make me as happy as I hoped.
R: Audiobooks, chatting with your mom, and trying to bond with your husband seem like healthy options that I should try to emulate. I usually listen to leftist political podcasts while quilting (Chapo Trap House, Trillbilly Worker's Party, Economic Update with Richard Wolf, the Bruenigs, and Bad Faith). Not "not stressful" but entertaining and/or informative. I'm currently listening to the Anti-Capitalist Chronicles with David Harvey. He has a very soothing voice.
I can't wait to read more about the projects you're working on!