It doesn't feel right that I should be the one to reveal Amanda's secret project, but I'm going to do it anyway!

Over the past few weeks (emphasis on few), Amanda has been telling me vague details about this secret project, and (it seemed to me) prepping me to receive some kind of flawed product. Dear readers, and by readers, I mean, our mothers, Amanda is insane, because after closely inspecting this beautiful quilt, I only see perfection. It is amazing, and I am embarrassed to say that I cried when she gave it to me this weekend.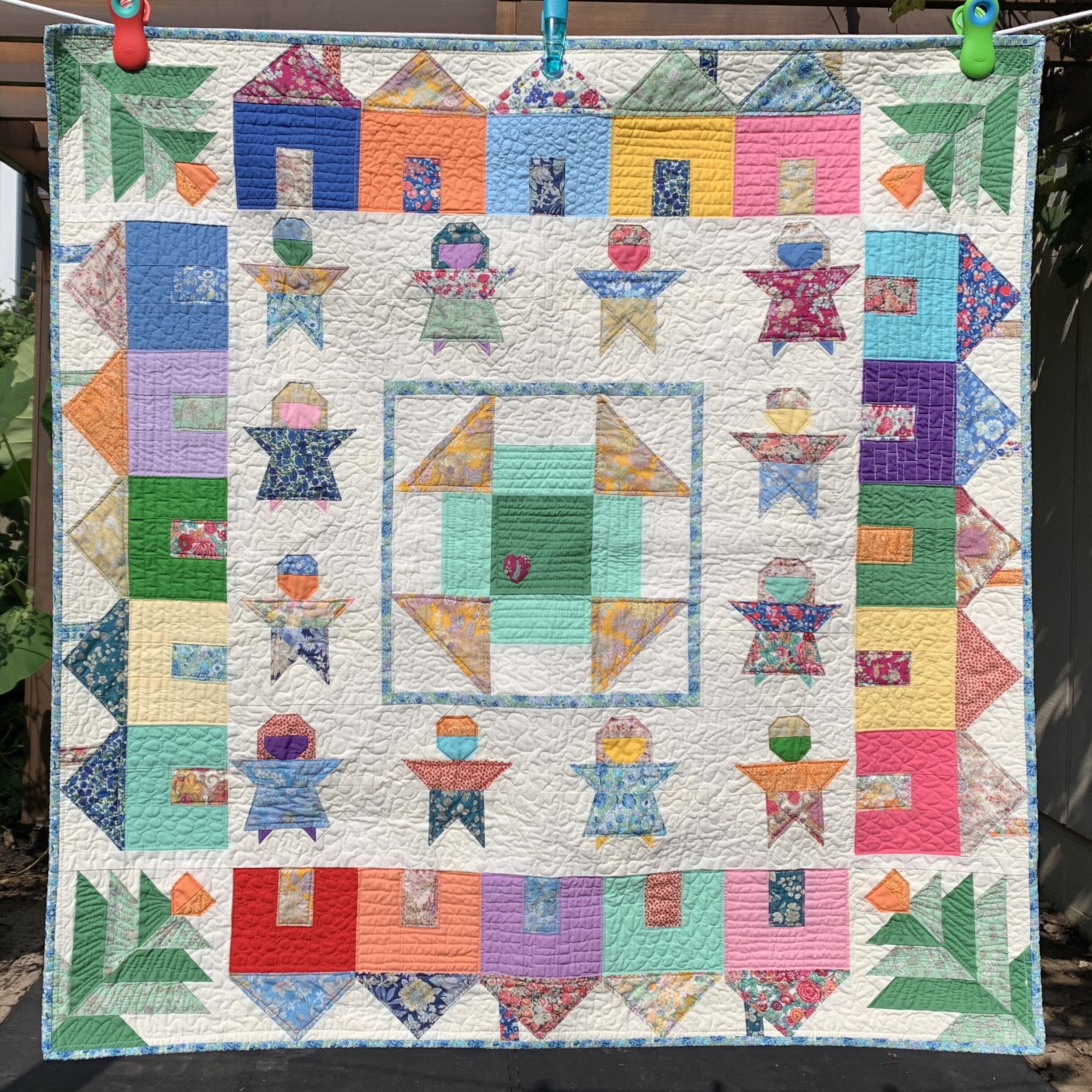 For those of you who may not know, I'm going to have a baby in a few months, and as you should know by now, the best thing about people having babies is an excuse to make a cute baby quilt. However, does Amanda grab a couple of charm packs and full bunny blast together a baby quilt in a few days? No she does not. Well, maybe she has in the past but she did not do this for the baby that we are calling Buffalo, which her son suggested as a name.

Amanda and I live in a very special neighborhood, as you can see by our blog cover image, which depicts a bunch of willing but also coerced neighbors holding up our quilts in the parklet where we often hang out. There are so many kids running around, it's sort of ridiculous to add to the child population, but it's a great feature of our street (even though they often drive us crazy). She tells me that the center churn dash block represents the parklet (and omg look at the cute little bunny!! She knows I love bunnies). This was originally going to be the pickle dick block, which she promises to show me someday.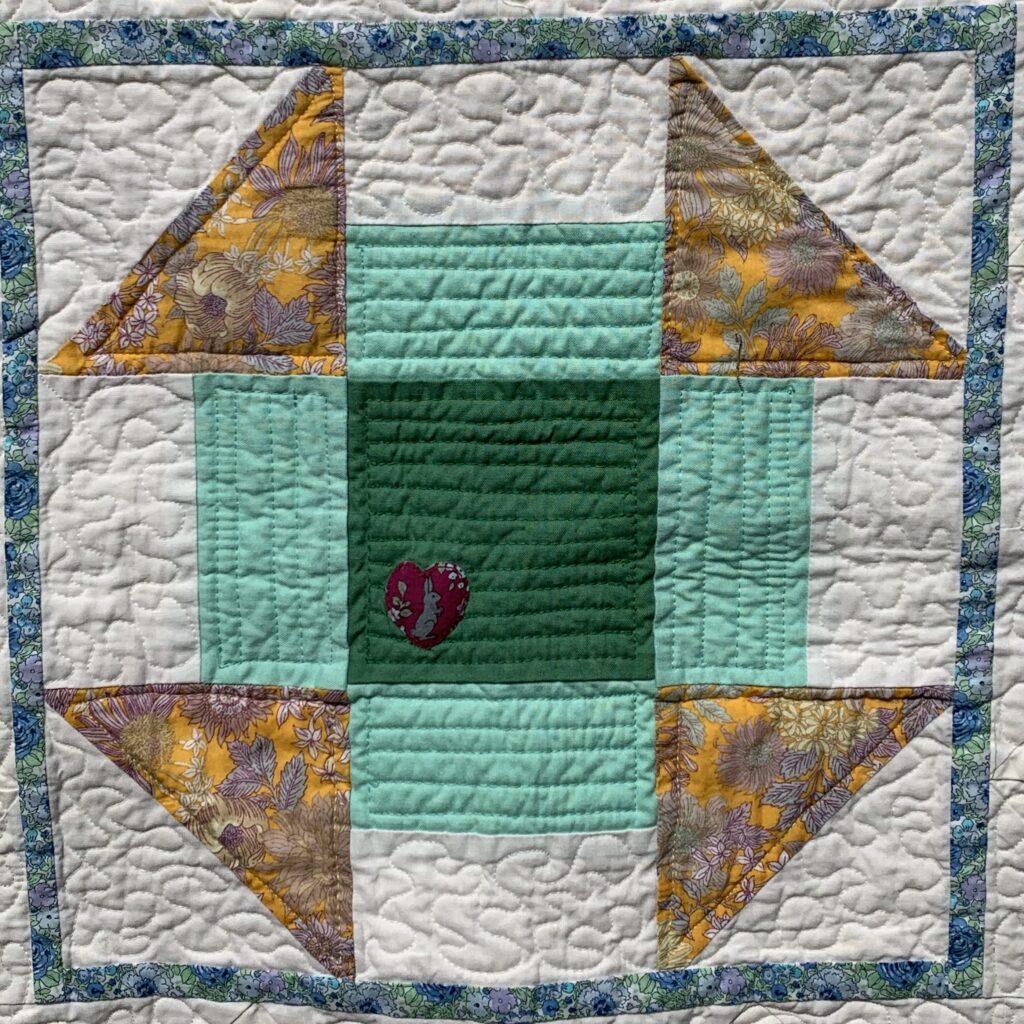 And around the parklet churn-dash block are 12 adorable pieced child blocks… Amanda HOW DID YOU DO THIS?! And then surrounding those are houses, reminiscent of those in our neighborhood, and tree blocks in the corners (we are lucky to live on tree-lined brick streets and next to Frick Park). The quilt is a square! Because our neighborhood is Regent Square.

As I looked closely at the houses, I noticed that she had FMQed little bricks and pebbles onto some of them…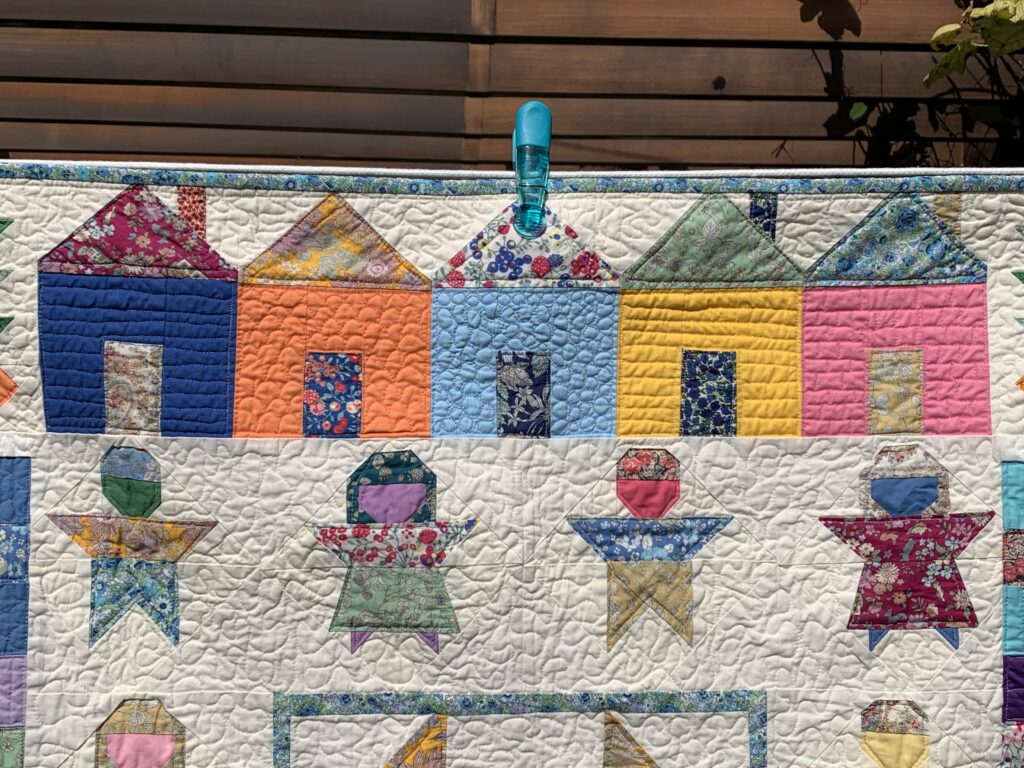 I don't know how many late nights Amanda spent working on this quilt, but I'm guessing she is even more sleep deprived than me. I kept exclaiming "how did you DO this?" Amanda, I hope you will write a follow up post and tell us how you did it.

The colors are perfection, the piecing and quilting are incredible, and it has a lovely minky backing, so I want to both display this quilt on my wall but also snuggle it.

THANK YOU AMANDA for all of the hard work that you put into this beautiful gift. I feel so special, and so happy for baby Buffalo, the luckiest baby in the world.

Here are some snaps from our weekend trip to Lake Chautauqua, with a stop on the way to pick grapes. Amanda and some of our other neighborhood mom friends planned this getaway as a celebration of baby Buffalo. I think I might be the luckiest mom in the world?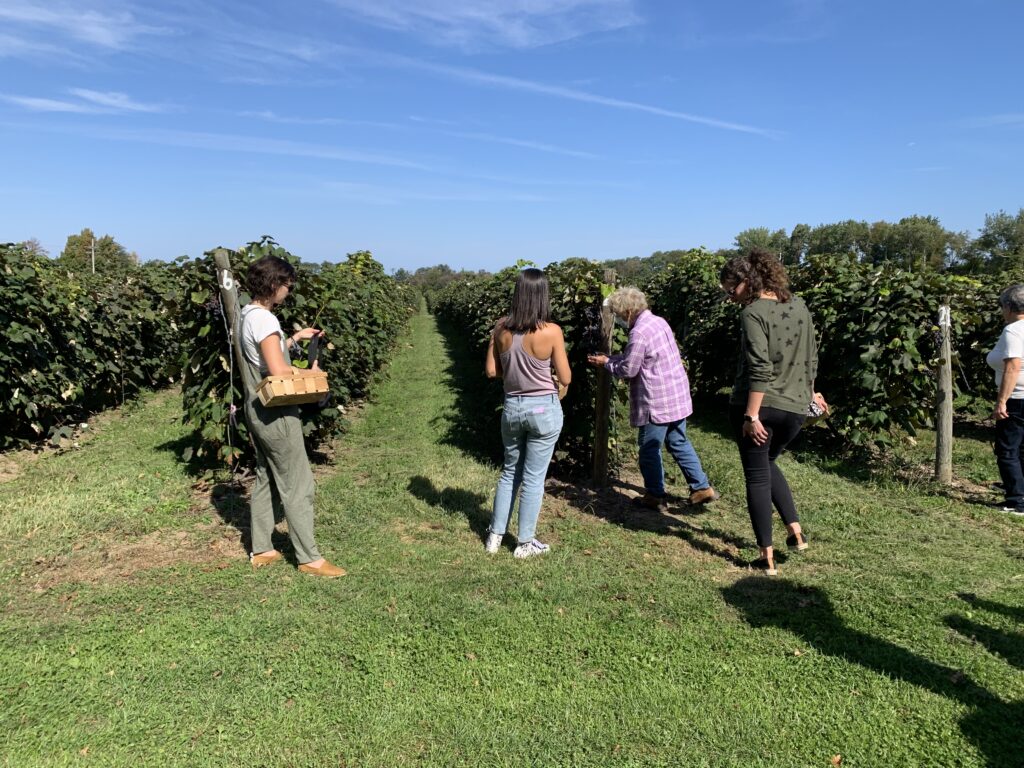 Thanks again, Amanda, you're the best. <3