When you've set a ridiculous quilting goal for yourself, there are no days off from quilting. There are no vacations from your sewing machine. If you are driving (riding) 8 hours to visit your parents in Michigan for an early Thanksgiving long weekend, you pack your sewing machine, quilt top, batting, backing fabric, embroidery floss and hoop, all the notions, and you're thankful that your mother also quilts and has a cutting mat, iron, and ironing board ready for you to use. You spend the entire day before early Thanksgiving pin basting a quilt in the dining room and then stay up until almost 2am finishing the quilting and binding. You do all of this not only because you want to meet your ridiculous quilt goal for 2021, but also because you want to take a quilty glamour shot by the beautiful Lake Michigan. You do all of this because you are 100% insane.

I'm not entirely sure why I wrote that first paragraph in second person. Probably because I am insane. 10 quilts! I think I'm gonna make it!

How should I quilt the Holiday Party quilt? I asked myself this question throughout the process. This would be a good quilt to send to a long armer and request a snowflake pattern, but I wanted to gift it to my in-laws (surprise!) at Thanksgiving, hence the need for me to take it to early Thanksgiving with my parents. I ended up doing a very simple "stitch in the ditch" or "stitch in the vicinity of the ditch" (it's hard to stay in the ditch!). I didn't even quilt all of the seams because I used a wool batting and only had to stitch up to 8 inches apart. Here's an illustration of how I quilted it: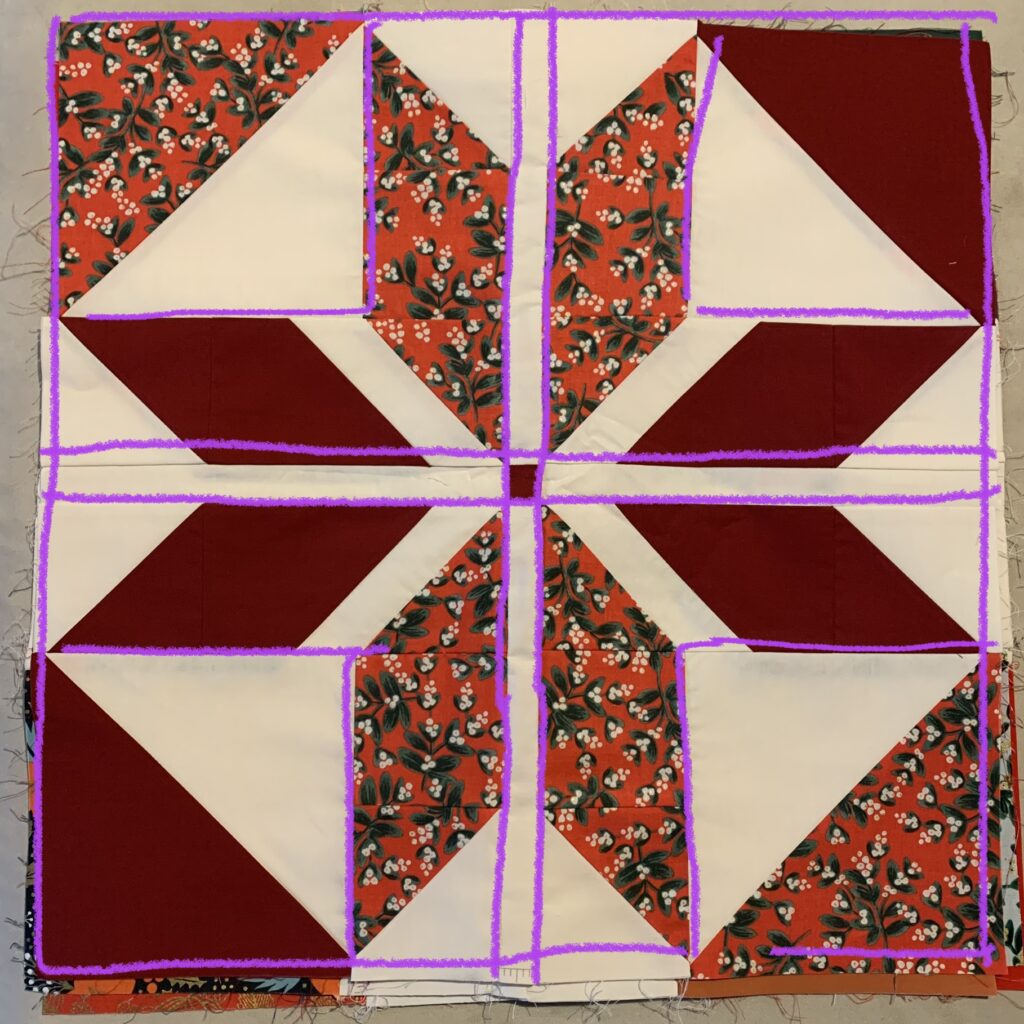 It was fast and it should hold the batting in place. Given the lovely prints and patchwork pattern, this minimalist approach worked just fine. For the back, I used one of the prints, and I don't think the quilting is very noticeable. The light quilting + the wool batting = a warm and fluffy quilt. Love that loft!

The next evening, we took the quilt down to Lake Michigan to get some pics and watch the sun set. It was freezing! But that didn't stop my kids from running through the sand.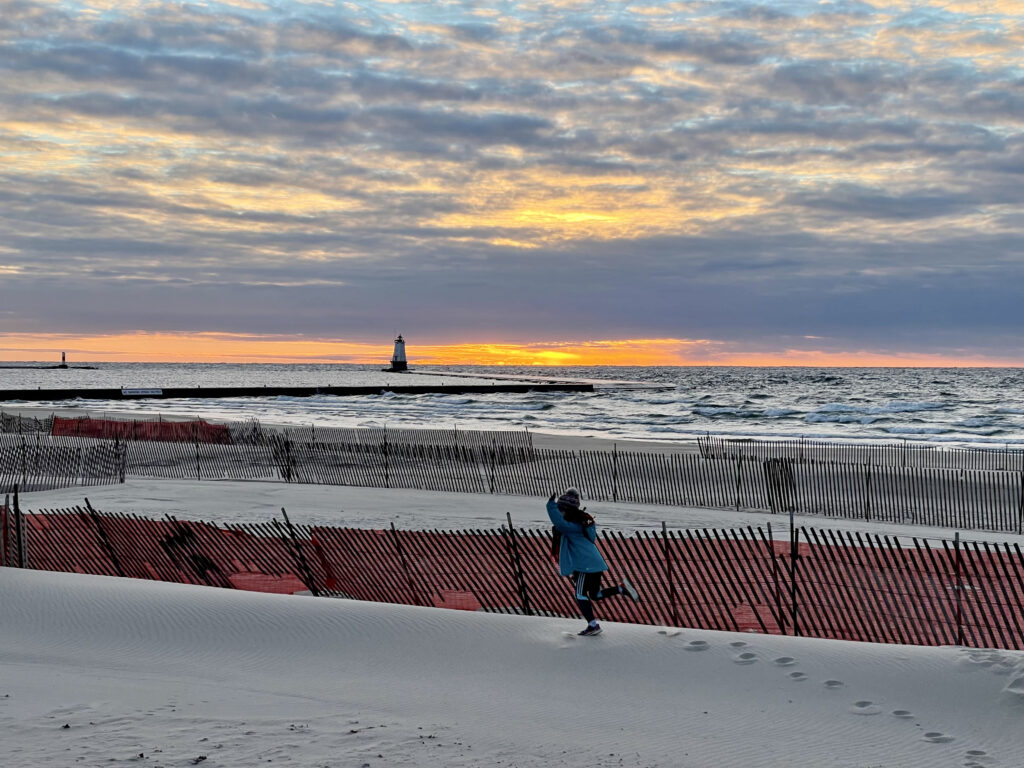 Although the howling and freezing cold wind made this quilty glamour shot a bit tricky, my sister, my two kids, and I managed to hold it up long enough for my dad to get a decent picture: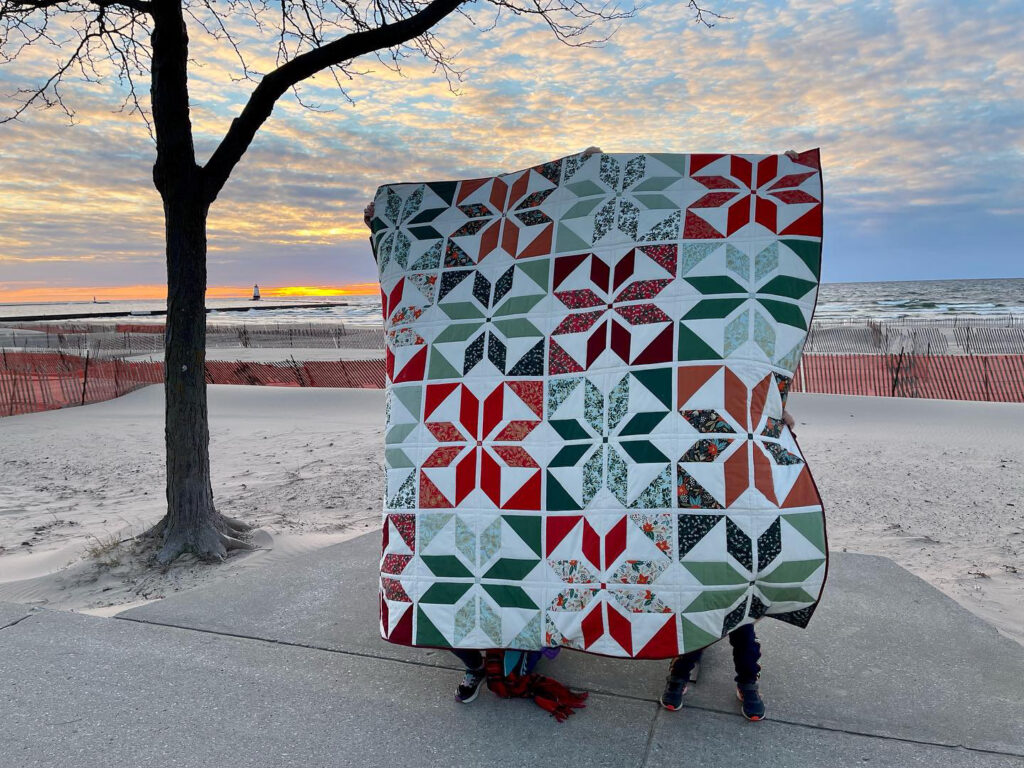 The outtakes were good, too: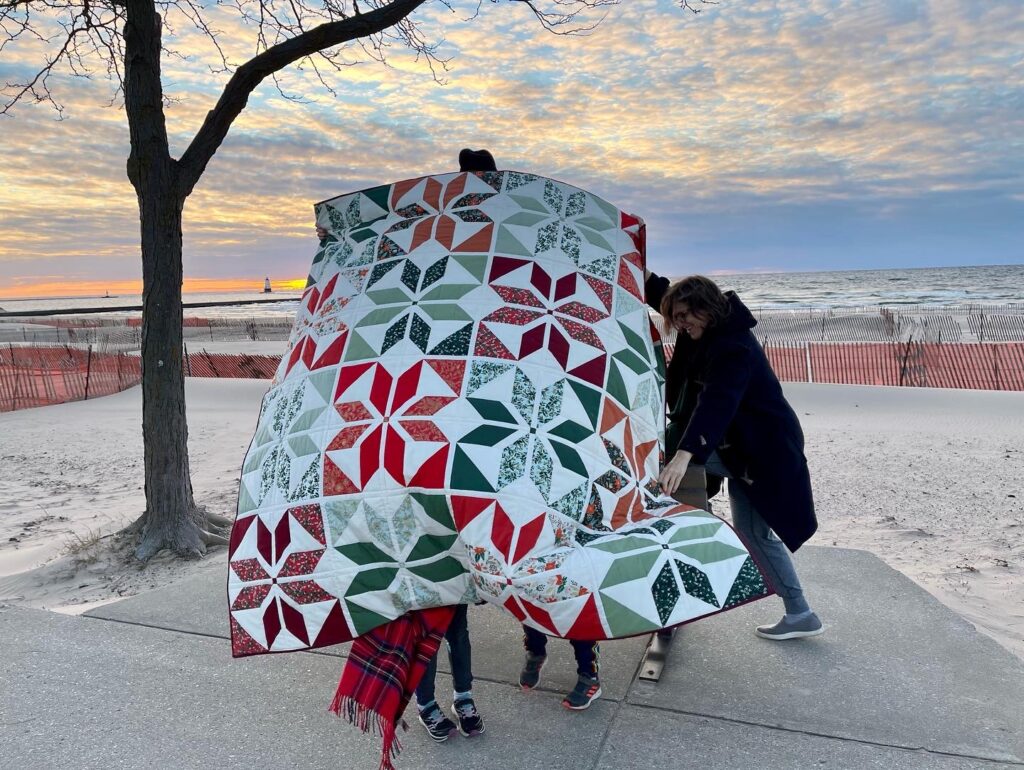 The morning after we got back to Pittsburgh, I found my son wrapped up in the quilt that I had folded up and put in a gift bag for my in-laws…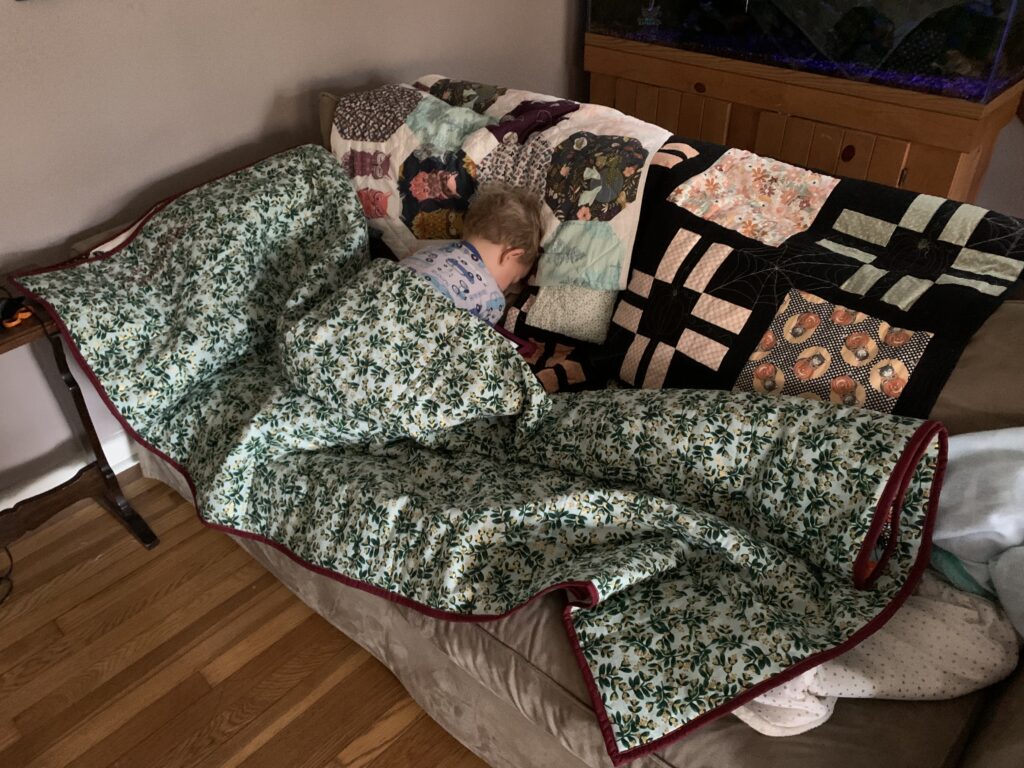 That's the only pic I have of the back… I adore this fabric! I am using the scraps to make some Christmasy throw pillow covers.
If you want to give a gift to someone and get the best reaction, give it to my mother-in-law. Her appreciation and admiration gave me the fortitude to press on with this hobby! Kathy, you're the best. xoxo
Only 2 quilts to go before I reach my goal of 12 quilts for 2021! One of them involves an unruly and very large flock of flying geese…