I like the Halloweenish quilt, Rachel! I'm glad you did not let my curmudgeonly attitude toward holiday specific décor deter you. There are so many adorable Halloween fabrics and I am glad you decided to go for it! Also, I think the back looks very fall-like so you could always flip it for the full fall season!
I have to start blogging about quilts of the past because I do not quilt fast enough to have new quilt content on a regular basis. (This is why I need a quilt blogging partner!) Also, my mom reallllly wants me to blog about the quilt I made for her, which is the "Paris" Quilt.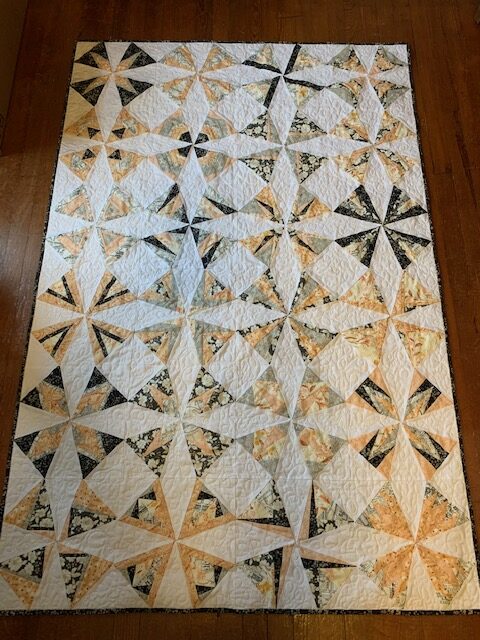 My mom painted and decorated her home office last year and the colors in this quilt were supposed to match. She said she was calling it her "Paris" room, which I don't know exactly why it's a Paris room, but I guess she wants to feel Parisian while she sits and does her accountant work. I understand and support wanting to pretend to be in Paris at all times.
For the back of the quilt I used a panel with a map of Paris.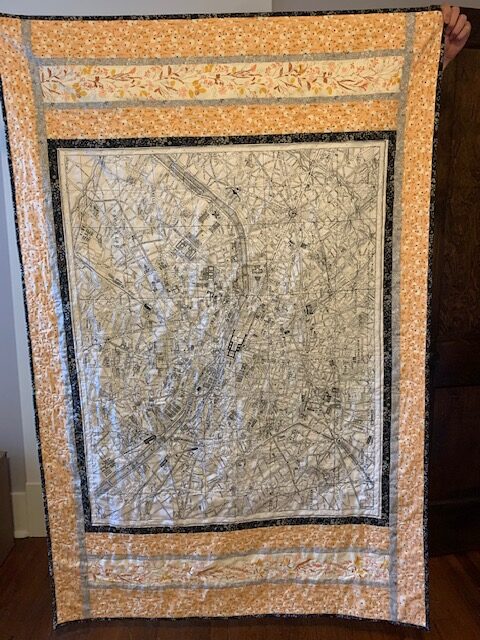 I thought this might be a birthday gift for my mom but when her birthday in early December came and went I thought, no matter, it will be a Christmas gift! I finished on Christmas Eve, mostly likely at 2:00 a.m. It's a miracle Louie didn't come down on Christmas morning and find that Santa didn't come but mommy was passed out on the couch in the middle of hand-basting the binding. I love gifting quilts, but I am always struggling in the final stretch!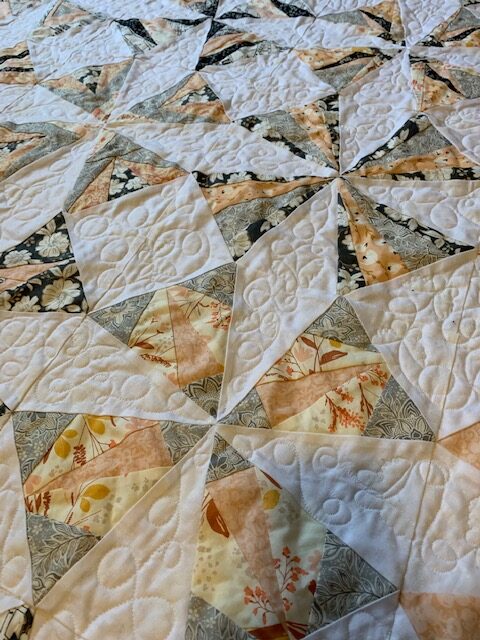 My biggest quilting regret on the Paris quilt was that I did not do any quilting on the pieced sections. In hindsight, I should have done the loopy FMQ over the pieced sections as well as the white background. My plan was to just do some straight line quilting in the pieced sections to help those stand out, but I ran out of time and I could not figure out a way to do that quickly enough. When I made Louie's superhero quilt I figured out I could straight-line FMQ. This is not perfect, but then you don't have to keep turning the quilt, which is faster. To this day sometimes I think about the Paris quilt and get mad about those non-quilted pieced sections!
Deciding how to quilt something is so hard. It's at the end and I am usually pressed for time, which does not help. I worry that an all-over quilt pattern won't allow the blocks to stand out. But then, that's what led me to go crazy quilting Rachel's baby quilt and I worried I over quilted it. (I'm sorry baby Buffalo, your quilt is v stiff.)
On the positive side, I did like how the FMQ on the white background turned out.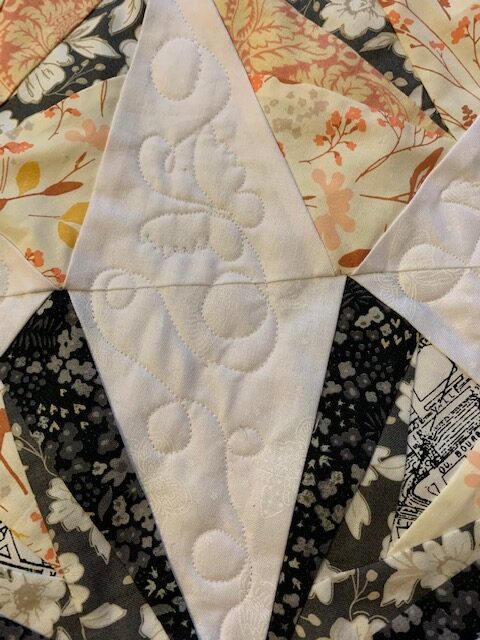 The white fabric has butterflies on it and so I outlined some of the butterflies along with the loops. Now, I will note that my mom didn't realize there were butterflies at all, let alone quilted, until about a month ago. So, there is that.
The other mistake I made on this quilt is I did not have enough fabric for the backing! Backings require a LOT of fabric. I probably started making the backing two days before Christmas so I needed to make do.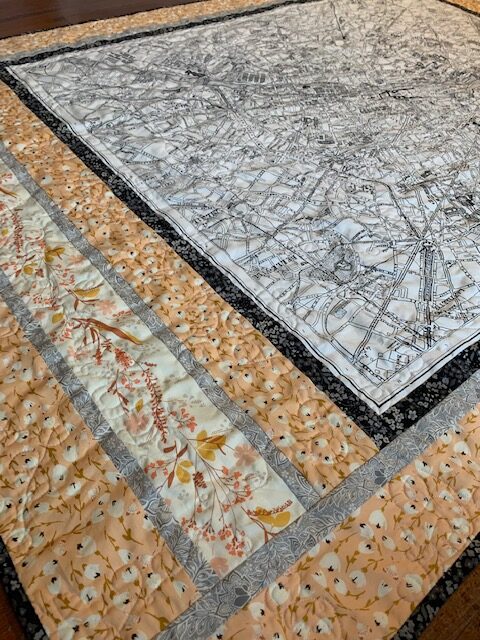 I cobbled together some pieces I had left and I actually really liked how this backing came out! A lack of fabric requires innovation, I guess.
The pattern for this quilt is "Through the Looking Glass" by Jen Sorenson. I would love to make a Christmas quilt with this pattern. Perhaps I will begin that quilt now and hope to finish it by next Christmas. And I will try to finish it early enough to quilt those pieced sections!
Lastly, while scrolling through my photo library to find the pictures of this quilt I found pictures from last December when Rachel gave haircuts to everyone in the neighborhood on my porch. Oh global pandemic, the strange things you've made us all do.