And it's today! I myself am not a "cat person," but I will use this opportunity to honor my most favorite cat lover, my dear Megan.
The second quilt I ever made was for Megan (the first one was for my dog, Wallace). She requested a "cat quilt" because she really does love cats.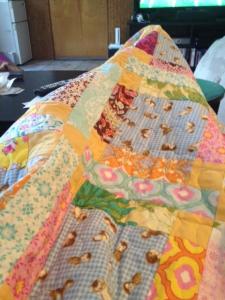 The one and only picture I have of this original cat quilt is one Megan sent me of her sitting under it. In 2012, I wrote this about this quilt: "i dove in to free-motion quilting today. i'm not sure it's fun." I am still unsure.
My second cat quilt was for my dear Joanna, who happens to be the daughter and cat lover protégé of Megan. JoJo's quilt was the first quilt I came up with in my imagination and so it's maybe a little strange, but I hope JoJo can forever look at it and think: that's from my weird Aunt Amanda.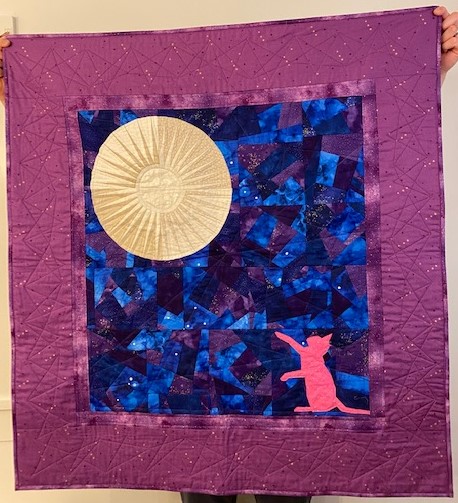 This is a silhouette of a cat reaching toward the moon because ??? I have no idea. In any event, the moon was so fun to make! It is a New York Beauty block pattern from an Etsy shop called Tobacco Shed Quilts.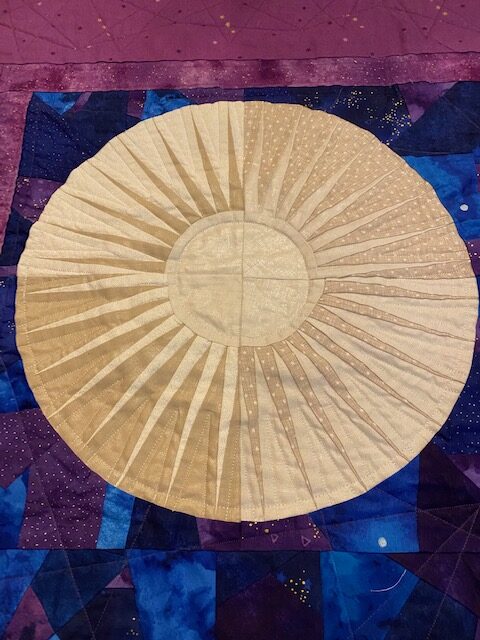 Some of the moon fabrics are from my stash, but I bought some Mineral Linen fabric from Purl Soho to make the moon a little bit shiny!
The night sky was made from many charm packs purchased from Missouri Star Quilt Company. I kept using up all of the fabric and ordering more of the same charm packs. To the shipping person at Missouri Star Quilt Company, if you were thinking that this person must have no clue how much fabric she needs to complete their quilt project, you were 100% correct. I used a series of free foundation pieced patterns I found online to make the night sky, but unfortunately I cannot recall where on the internet I found them so I can't give credit to the person who created them!
The cat block is from Quilt Art Design. Janeen van Niekirk has so many fun and amazing patterns. (I just got very distracted scrolling through the patterns of hers I want to try next.) I was really intimidated to make the cat block because I'd never done piecing that intricate before, but the pattern was so good it was surprisingly easier than expected!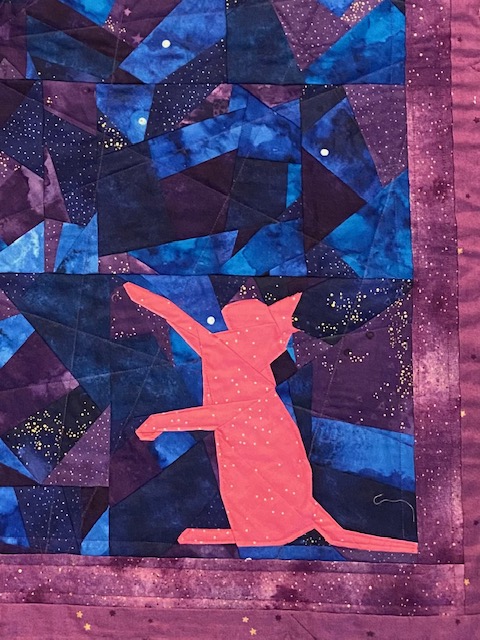 For the quilting, I did some outlining on the moon and the cat and made random, diagonal lines all over the night sky, which sort of matched the piecing in that section. For the outside border, I used a star quilting pattern from Quilting Made Easy, which, again, was actually pretty easy! Big thanks to all of the quilting innovators out there who can think up these patterns and tools that allow the rest of us to make our own creations!
Happy National Cat Day to Megan, JoJo, and all of the other cat lovers out there!
In addition to honoring this special holiday, this week I also cut up fabric for a Christmas quilt, Thanksgiving quilt, and put the finishing touches on Louie's Halloween costume (which Rachel and I consider to be a quilt). So many holidays converging this week!