I had really high hopes for a relaxing, not stressful holiday season and also for completing many holiday quilt projects. I managed to complete some of my planned projects, but definitely not all. And I completely failed at not being stressed. One of these years I want to crack the code on how to not lose it around the holidays. Probably not planning so many sewing projects in December would help. (Also, not having any global pandemic related school closures would also help).
I did not find the time to update the blog as my December sewing got underway. But, I wanted to share these quilts, even if a little late. So, I will simply plop them here now!
I could not get enough of Rachel's Holiday Party Quilt. I was inspired by her to use the same Suzy Quilt's pattern to make a table runner as a gift for my family gift exchange. I thought–how hard can it be to make a table runner?!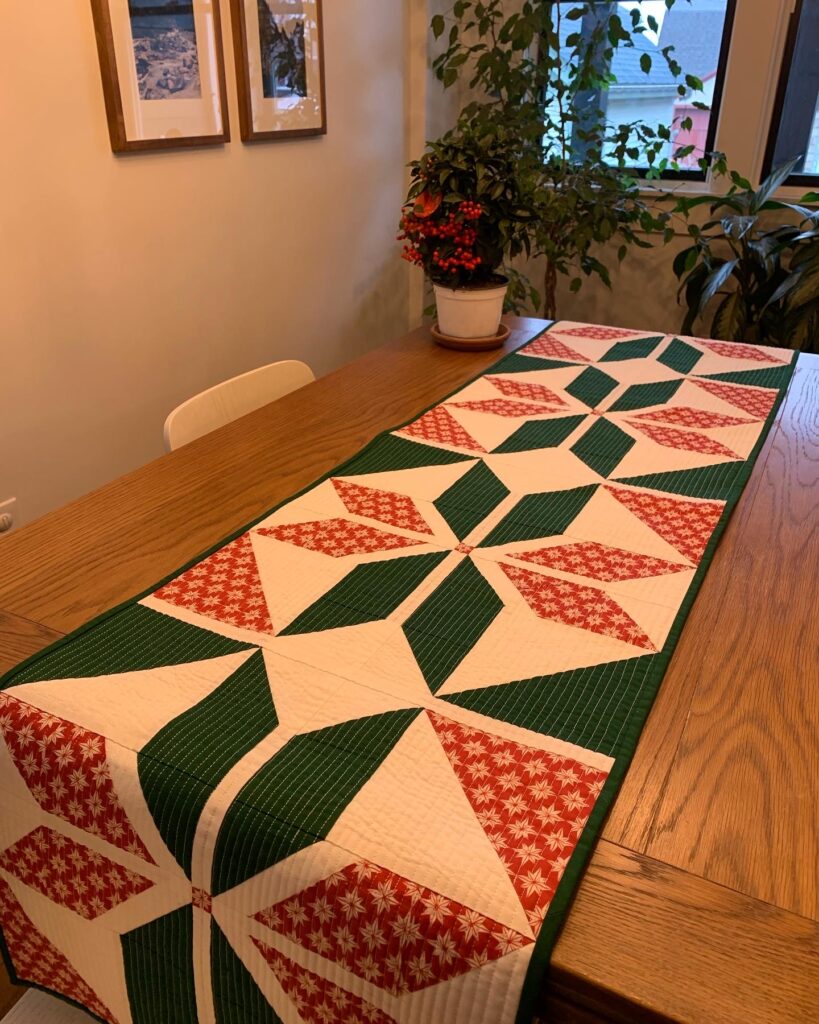 If Rachel was like the best guest at the holiday party who remembered to bring a hostess gift and mingled with everyone, I was her friend who stumbled in late and maybe already had too much to drink even before I arrived. By this I mean–I was really terrible at the Holiday Party Quilt pattern! I made so many mistakes from the cutting to the piecing. It took me way longer to make this table runner than I originally anticipated. And, now I am even more impressed by Rachel's entire Holiday Party Quilt!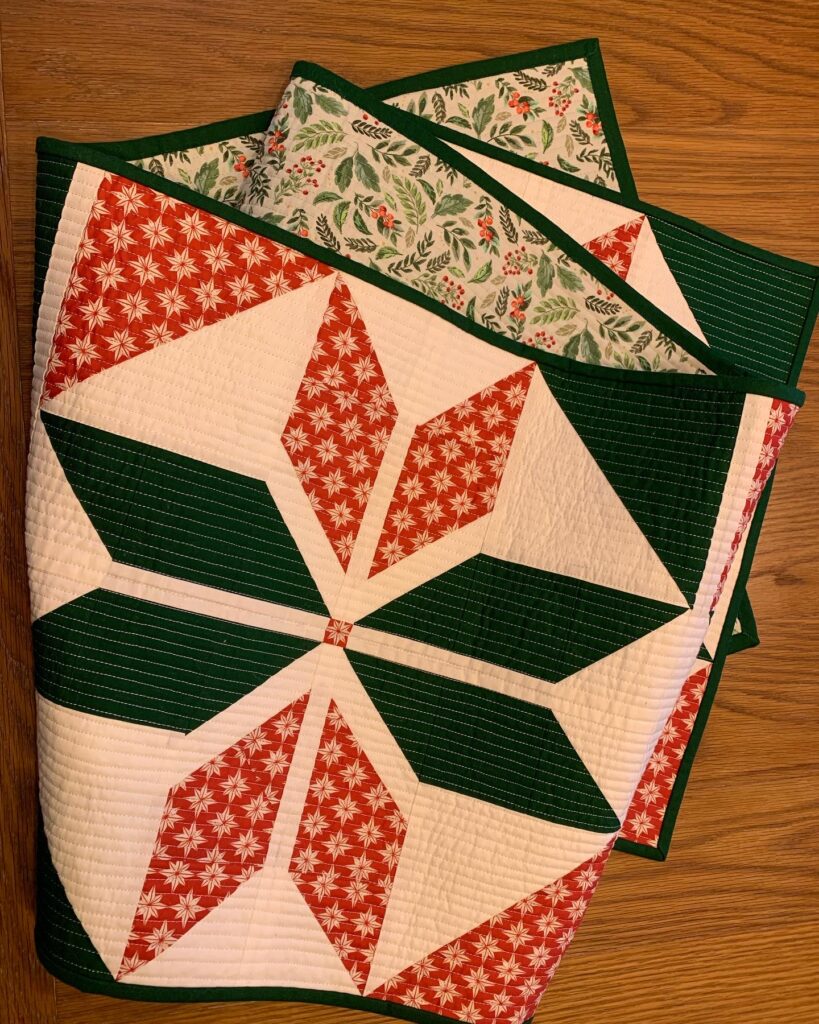 Also, just to note, I thought quilting this with straight lines would be super fast. No. The lines are a 1/4 inch apart. I really like the way the quilting turned out, but it was way more time consuming than I anticipated!
Moving on, I also managed to finish a Christmas quilt for my sister-in-law. I call this quilt "Christmas Explosion" because it's a lot of Christmas things in one place. This quilt was also inspired by one Rachel made! I don't think we have any blog evidence of Rachel's triangle quilt. I actually started cutting out the triangles for this before last Christmas, but they were abandoned until this year.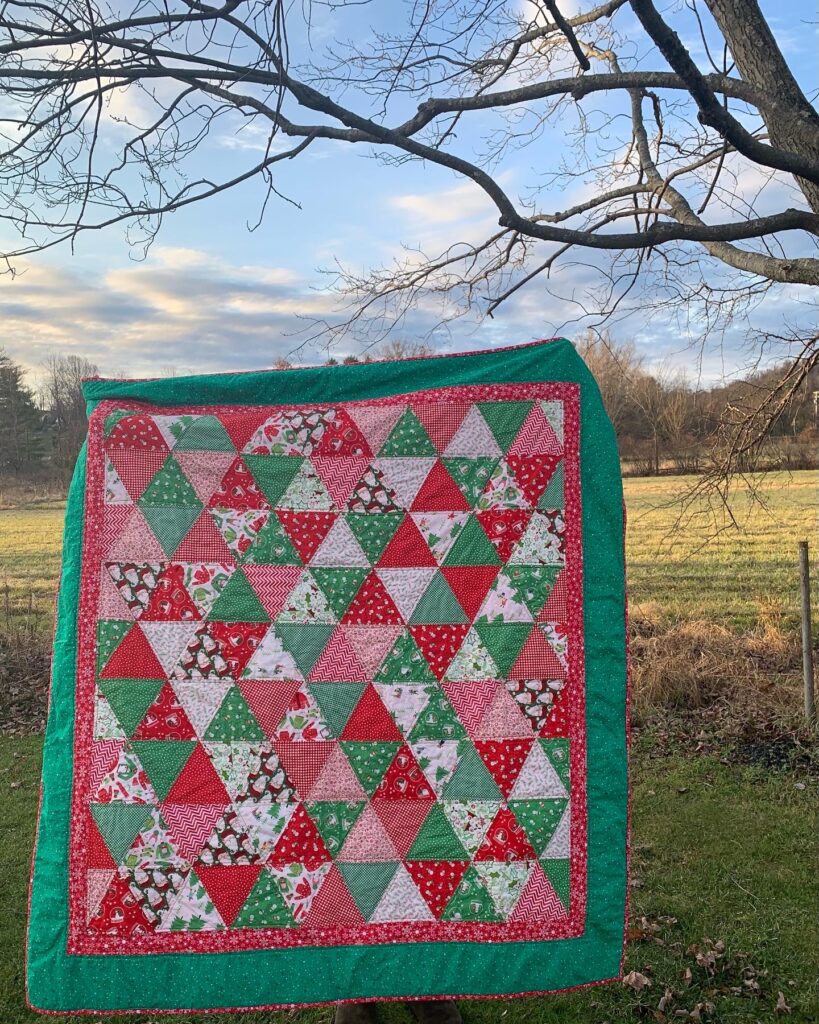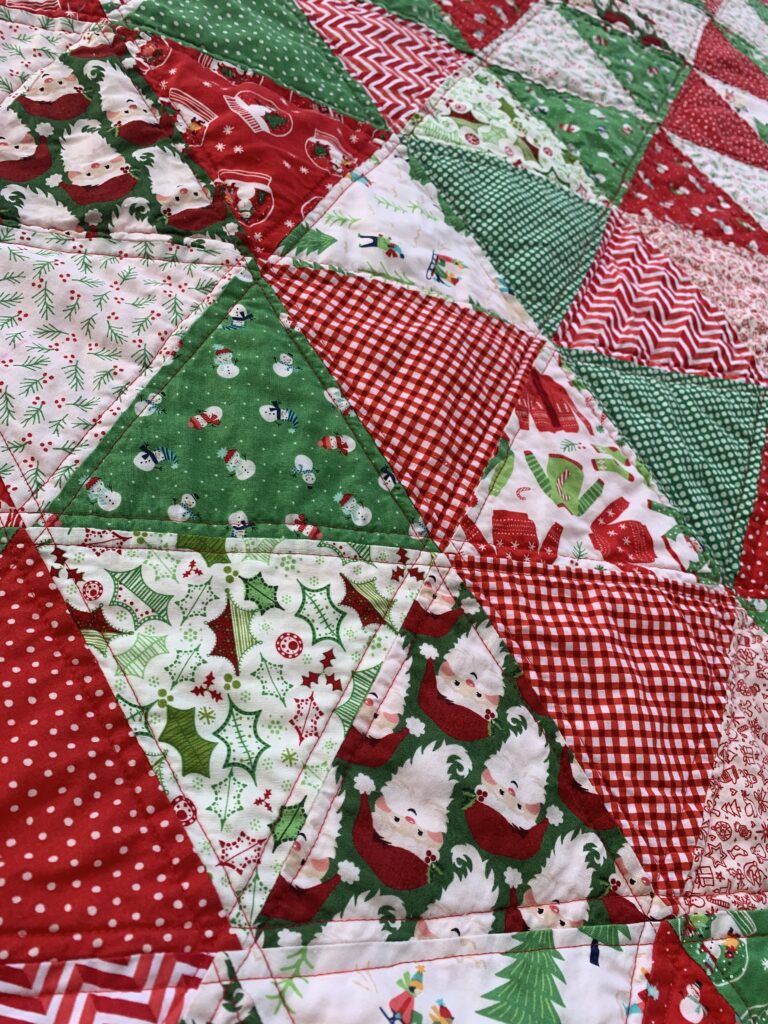 I backed this with some cute flannel fabric I found at Jo-Ann's. I wanted it to be super cozy! I am glad the triangles finally found a home and I hope my sister-in-law enjoys relaxing under this for many Christmases to come!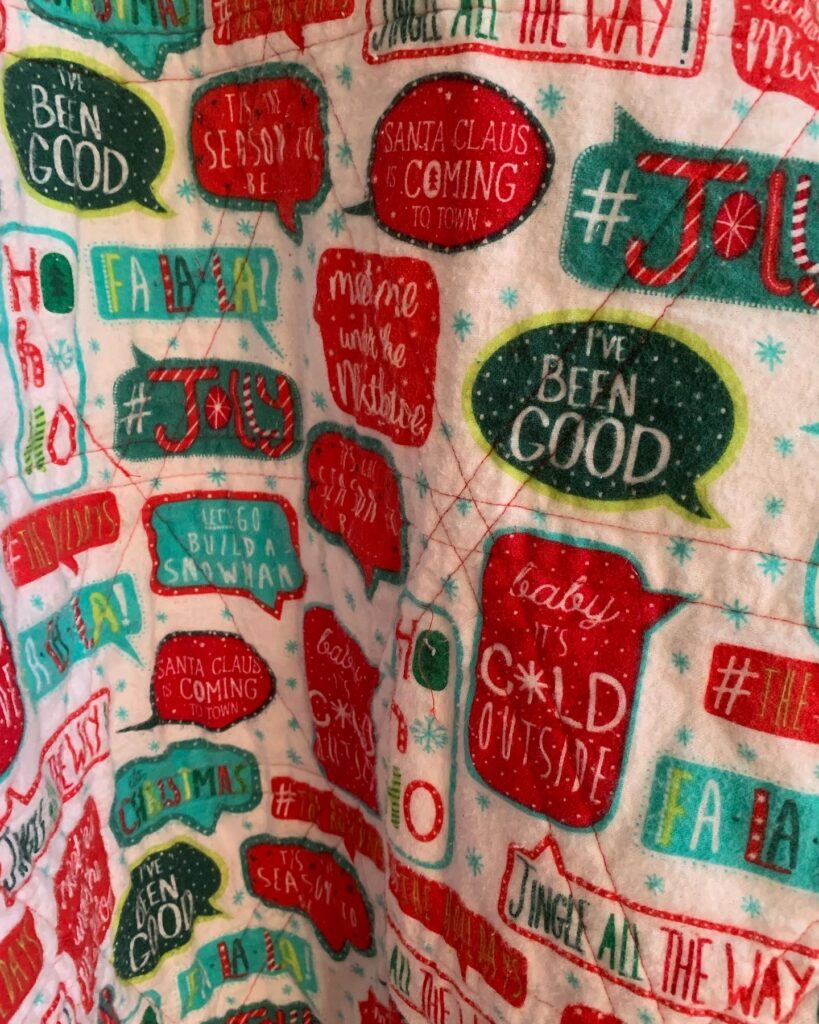 Finally, I intended to make holiday ornaments for everyone. So many ornaments! I made a grand total of…1! Louie helped me with this one during the pandemic school closure and it became the topper on our tree!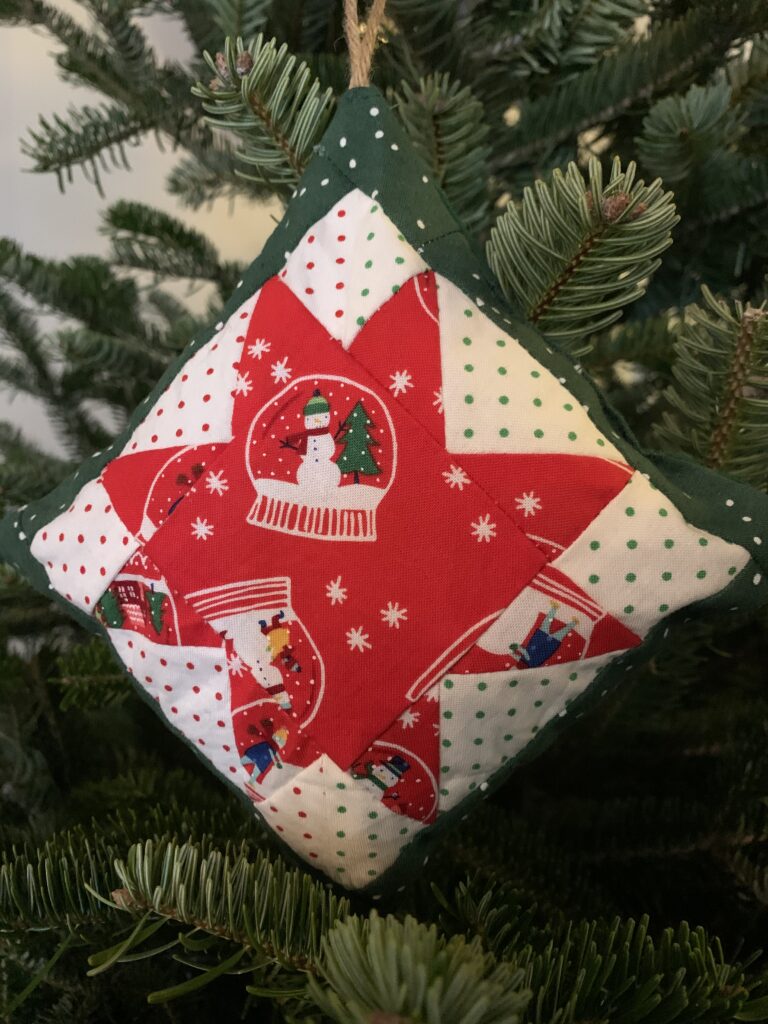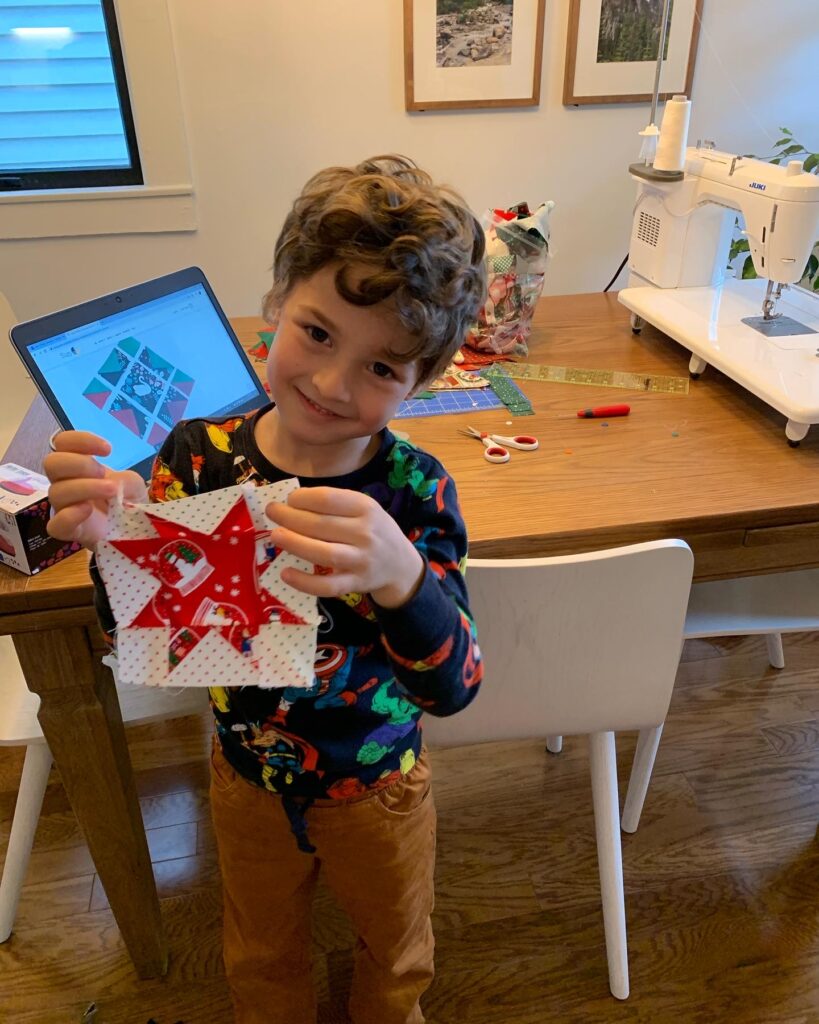 As for the tree skirt, the pillows, the ornaments, the quilted teacher gifts–maybe next year?! Happy holidays!