An Interview with Rachel
Amanda: Your goal for 2021 was to make 12 quilts, so the question on everyone's mind is: did you do it?!
Rachel: I can hardly believe it myself, but yes, on December 30 at 11:30 p.m. I completed the binding on the last quilt of the year! The night before that I finished quilt number 11. So, it was a little rushed at the end, but thankfully I was not madly quilting as the ball dropped, trying to finish before everyone started singing Auld Lang Syne…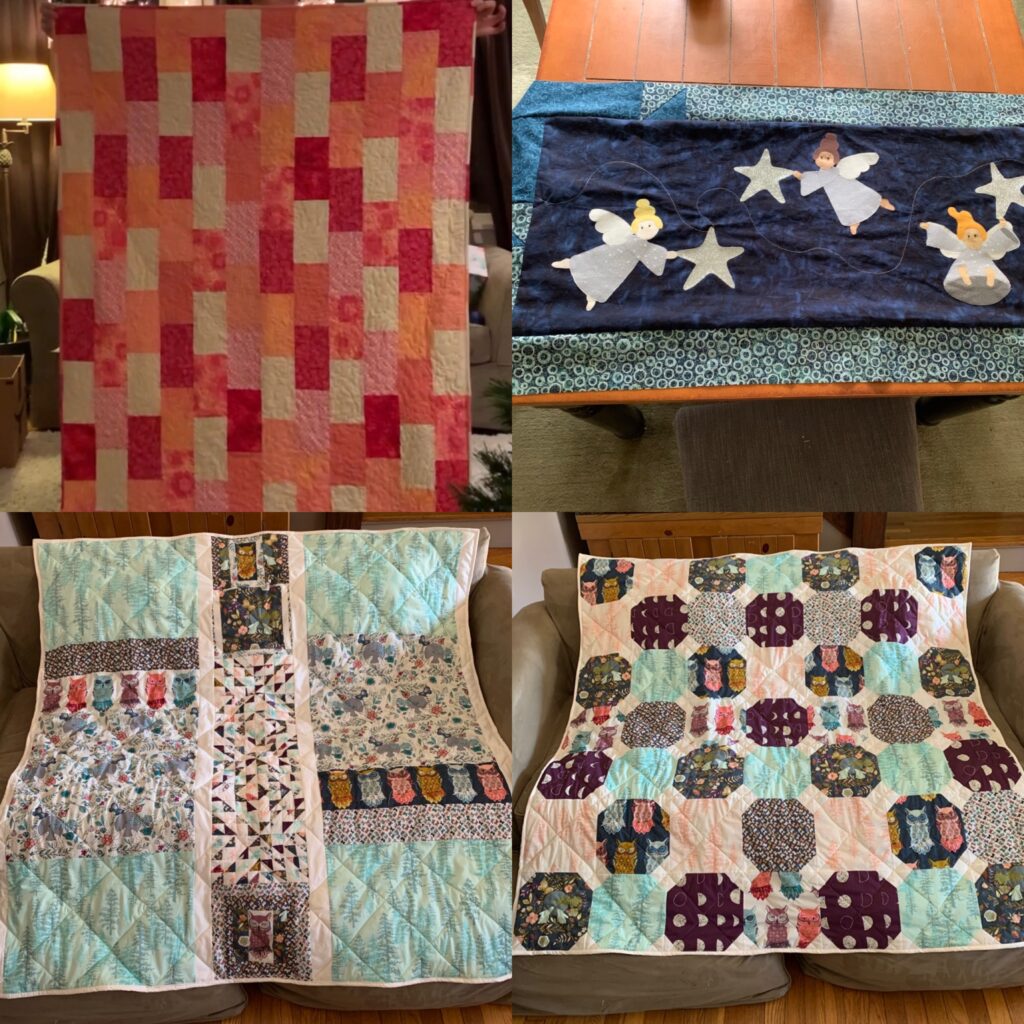 A: Congratulations! That is a lot of impressive work. Out of all of the quilts you made in 2021, which one was your favorite?
R: Ohhh that is a tough question. I think the Holiday Party quilt that I made for my in-laws was the most challenging and one of my best executed, but the "snowball" throw quilt with the bunnies and moons and flowers and owls is my favorite quilt to snuggle with. I think that super soft quilting cotton plus wool batting is a winning combination. Plus bunnies. Can't go wrong with bunnies. I also really liked the back of the Michigan quilt, using lots of little squares to make a picture of the state. So I guess those are my three faves.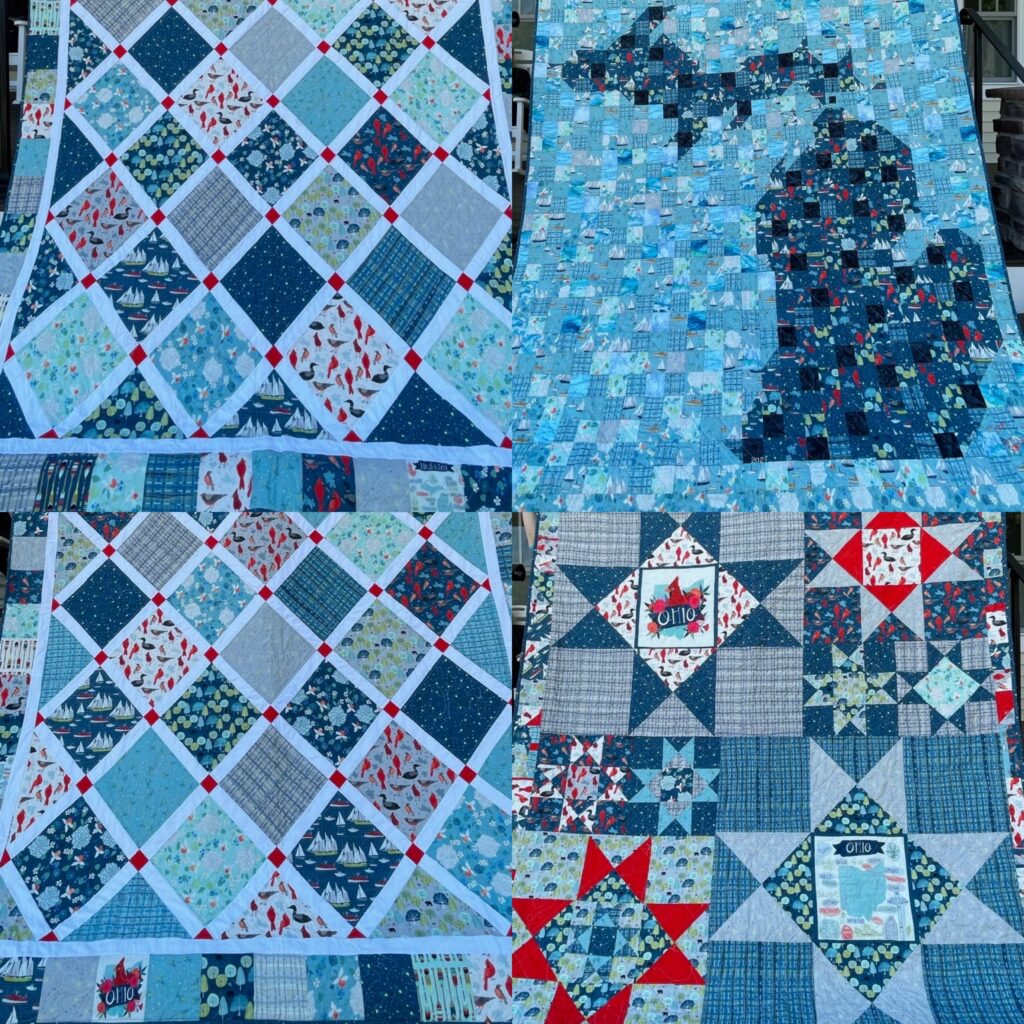 A: I loved the colors in your Michigan and Ohio quilts. And, I love that the back of the Michigan quilt was the state in tiny squares. "Oh, let me just throw together the silhouette of an entire state as the backside of this quilt."
What are some examples of where your inspiration came from this year? For example, any particular quilters you found inspiring? Or, maybe a particular quilt book you discovered and loved?
R: Well, I gotta give credit to Suzy Quilts. I watched a lot of her videos, read a bunch of her blog posts, and used three of her patterns this year! I was also inspired by her Holiday Party Quilt sew along, which connected me to quilters all over Instagram. The internet quilters are so great. Janet Patch, kitchentablequiting, zsb.creates – too many to name here. Before we got on insta, I would scroll the r/quilting subreddit, and I still do that occasionally. So many great quilting ideas out there! I also relied on the blogs, tutorials, and patterns of Amy Smart of Diary of a Quilter and Allison of Cluck Cluck Sew.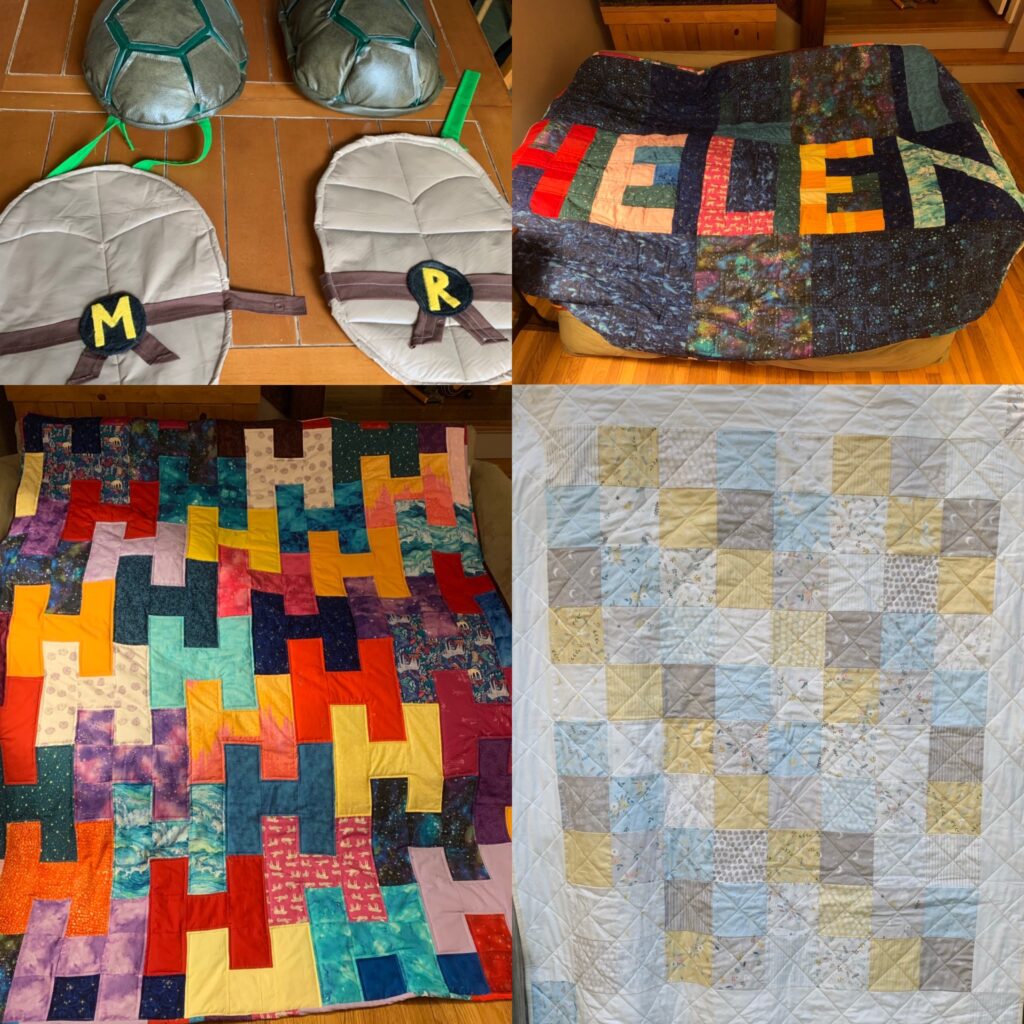 A: We love Suzy! And, I forgot about the turtle shells! What are some quilting hot tips you learned this year?
R: I think my biggest lesson learned is the importance of pressing in getting seams and points to line up. So many times I've been lazy about this, and I've noticed that taking the time to press is really worth it. I'm not quite at tailors clapper level, but I'm getting there! This is a literally hot tip. Use your iron! Probably obvious to 99.9999% of quilters.

The HST trimming before opening method is also really handy. It saves so much time!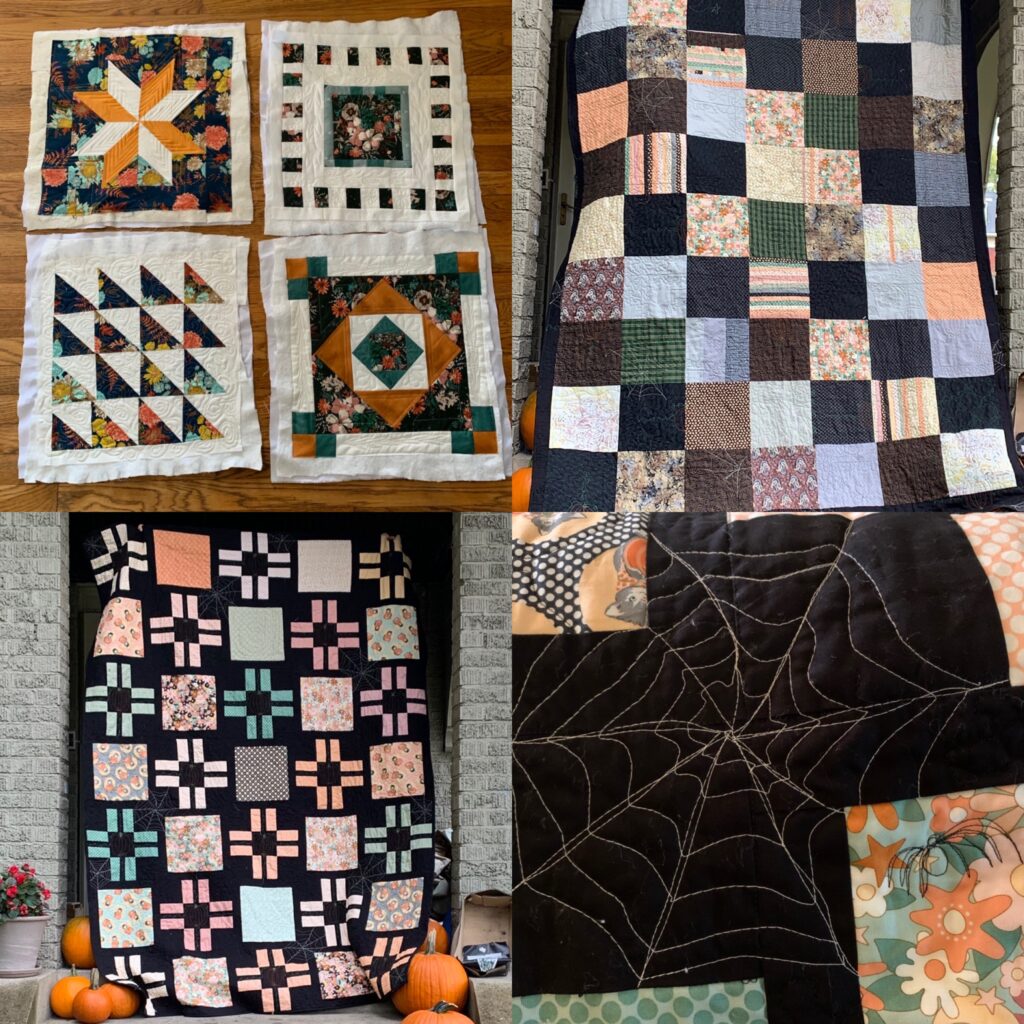 A: You said you wanted to work on free-motion quilting and foundation paper piecing this year. Did you accomplish those goals and how did it go?
R: Well, I did manage to do some FMQ, writing script Ohio on the Ohio quilt and a few other motifs, like the pumpkins and spider webs on the Halloween quilt. I got some good practice on the pillow cases that I made. Thanks to Leah Day for some excellent FMQ tutorial videos. I think I've decided that all over FMQ is really only possible on smaller quilts, unless you have a long arm. Somehow we don't have a long arm yet?!
FPP… I did not do any this year. I really like traditional piecing, and I was never able to gather the brain power required to figure out how the heck FPP works. But someday… someday I will figure it out! There are so many cool things one can do with FPP.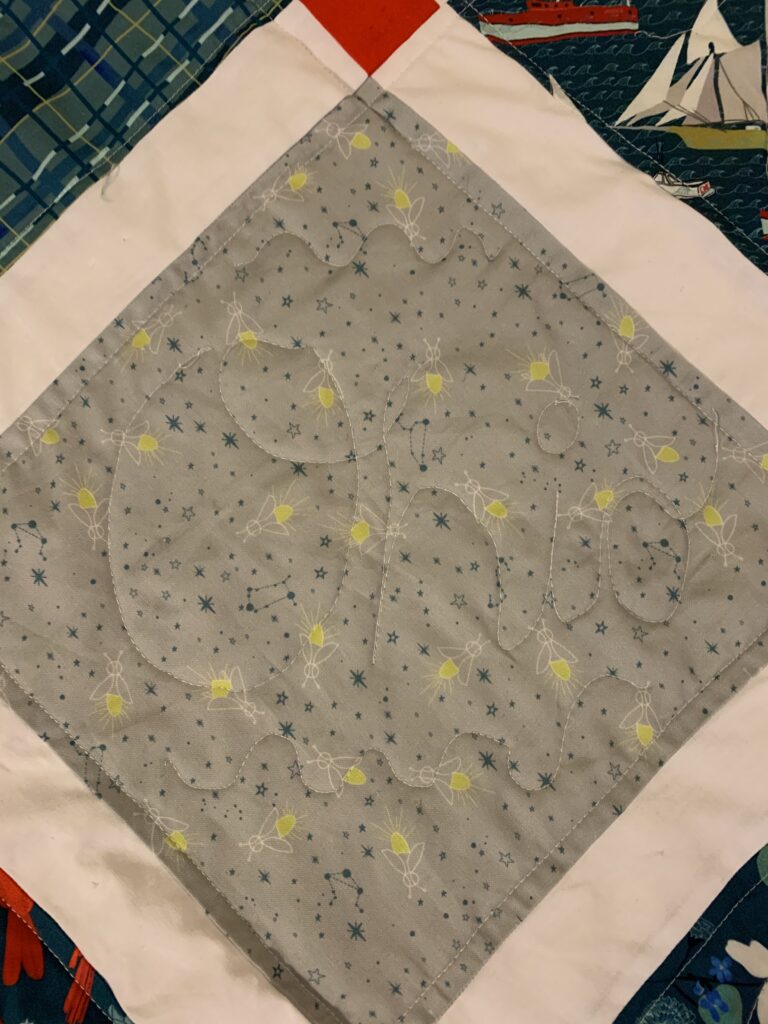 A: The spiderwebs were so cute! Did you discover any new tools of the trade that you are loving?
R: This was the year that I bought the Juki, a key to my sewing success. The large throat space has really saved my arms, which got very tired of pushing quilts through the tiny space on my Kenmore. And the stitches are beautiful. Stopping with needle down, the automatic thread cutter, the knee lift for the presser foot… all just fantastic features. Brad got me a little magnetic gauge to use to guide the fabric along, which helps to maintain the proper seam allowance while piecing or machine binding. I used it last night while binding Quilt 12 and it was really helpful! Good job, Brad.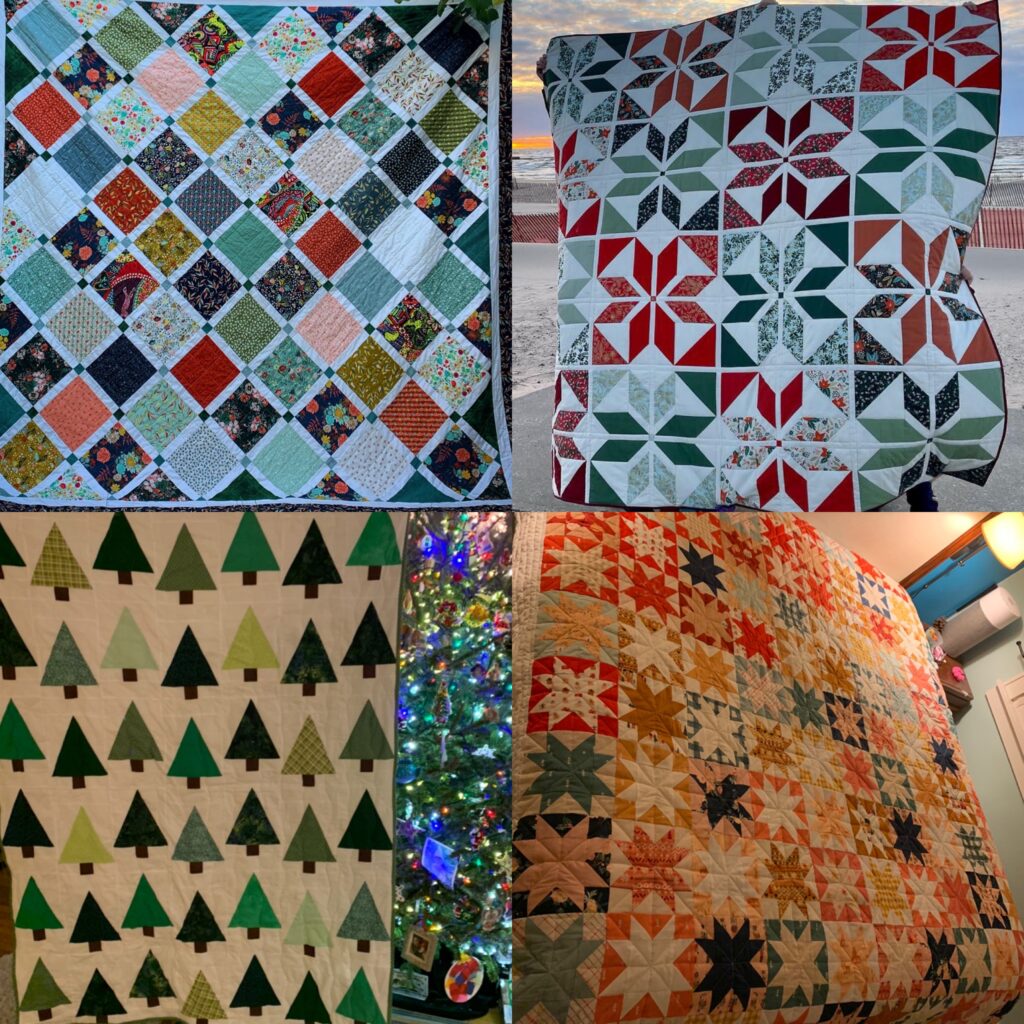 A: I have to say, looking at all of your quilts here your progress is so notable! Comparing Quilt 1 with Quilts 9-12 you really have learned so much in a year!
We started sharing our quilts on this blog and via Instagram this year. Has that changed–for better or for worse–your quilting approach at all?
R: I love documenting our progress and sharing our quilts on the blog and Instagram. One of the highlights of the year was when the Fat Quarter shop featured my Halloween quilt on their Instagram, which was likely due to my tagging them and thanking them for their free pattern I used to make it, as well as the seasonal fabric! After that, I got a little bit carried away in my mind, imagining us becoming Quiltcon icons. I have since come back down to earth and am now motivated to keep improving my skills, partially so that we have cool stuff to share with our followers and quilty friends. The external motivation is good, but I think my own desire to make quilts that I like is what keeps me going. All in all, I think sharing our quilts with "the world" has been a good thing. Also it provides entertainment for our moms. The only downside is that we now have this great Instagram account that is full of pictures of pretty quilts, and I probably spend more time scrolling there than my personal account… but it makes me happy.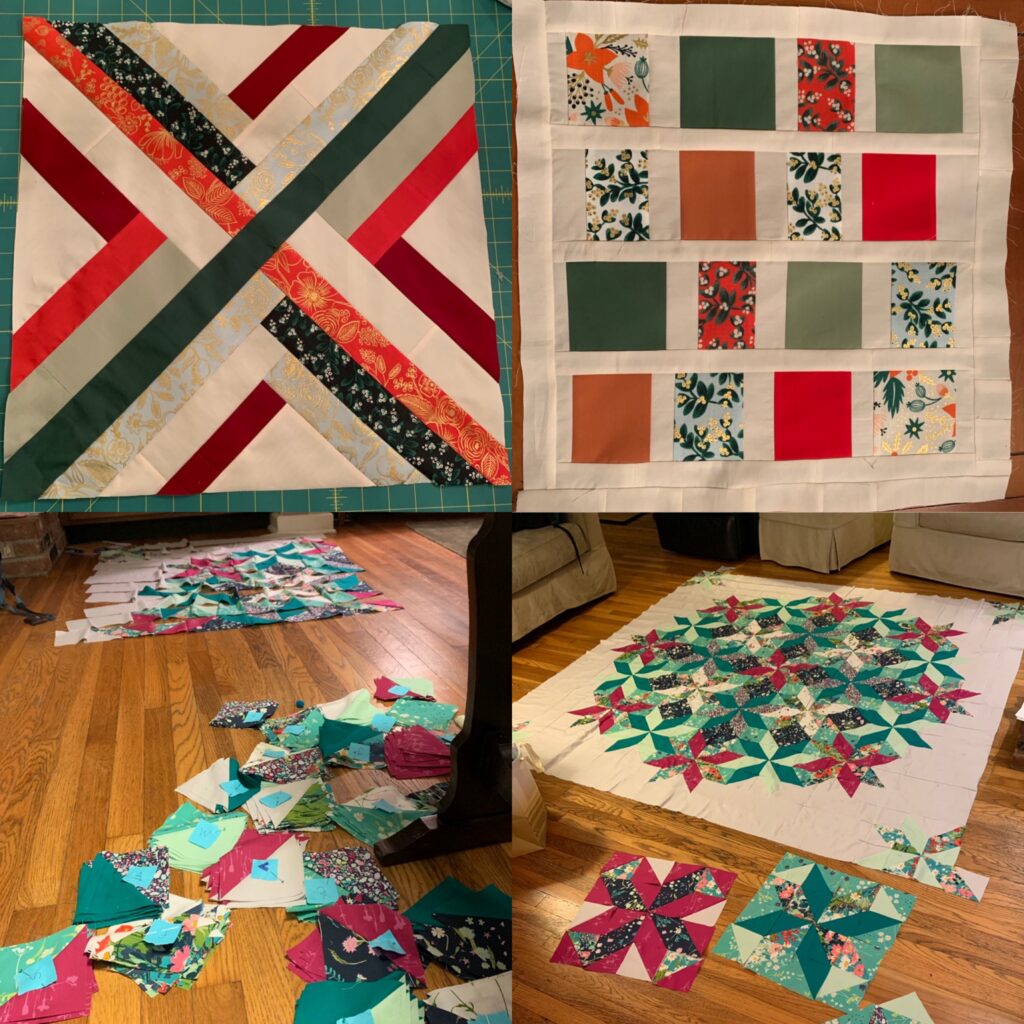 A: What are your #quiltgoals for 2022? Are you cranking it up to 24 quilts?!
R: Hahaha absolutely not! I am no longer setting quilt goals with set quantities. I made a lot of fast quilts this year, relatively easy to piece, and straight line quilted a bunch of them (usually at the maximum allowed distance between quilting that the batting allowed). I think this actually worked well for me this year, as I got a lot of practice and was also able to accomplish my goal. I will definitely keep these fast quilts in mind when I come across cool fabrics or need to make a quilt quickly, but I'd like to work on some more intermediate level quilts. Slow it down, learn some new skills.

I also bought a bunch of batting and fabric this year that I haven't used. My fabric bin is overflowing. More quilting, less fabric buying in 2022! I already have a few quilts lined up. One is a t-shirt quilt for Brad using the logos from his Penguins playoff shirts over the years. There are a lot of them. This probably doesn't fall into the intermediate category but it will be a new skill. I have a quilt top that I teased as one of the 12, but I never actually finished turning it into a quilt. I should do that!

During a sale, I bought a Suzy Quilts pattern called Perennial. It has some "wonky triangles" which I think will be fun to put together, and I bought some really cute fabric at our local Firecracker fabrics to use for it.

I'm also thinking about branching into quilt-adjacent projects, like quilted coats and bags. Maybe more throw pillow covers… I've got a lot of batting scraps to piece together and use.

Finally, I'd like to start an EPP project for travel and outdoor quilting. I don't know if we will be doing any traveling this year, but hopefully we will be spending lots of time outside.

I'm also going to have a baby any day now, so it might just be a year of doing what I can and being happy with whatever gets done. Maybe I'll aim for 23 quilts in 2023.
A: Yay baby!! I think not stressing over #quiltgoals is a great idea for this year! But, I still fully expect to look across the street and see you churning out quilts while bouncing that baby. ?
An Interview with Amanda
Rachel: Your goal for 2021 was to make 6 quilts. You were not counting all of them like me, a maniac, but I think you achieved and maybe surpassed that goal! Congrats! Do you agree and are you pleased with your progress?
Amanda: Did I make 6 quilts? Let's see… I made 1. a superhero quilt; 2. a superhero lap quilt; 3. another superhero whole cloth quilt (by the way, Louie told me now he does not want a superhero room anymore he wants a "boat room," so maybe 2022 will be the year of boat quilts); 4. a baby quilt which I never posted before (see below); 5. Baby Buffalo's quilt!; 6. a turtle shell (which you just reminded me of); 7. an unfinished cozy, lakeside cabin plus quilt; 8. a random mini-quilt designed by Louie, 9. a single Christmas tree ornament; 10. a Holiday Party runner; and 11. the Christmas Explosion quilt. So, really only 4 finished, pieced quilts. But! I think adding everything together I will say I got to 6.
I am definitely pleased with my progress, considering in some years I make zero quilts! Overall, what I really wanted to accomplish this year was just to keep consistently working on some kind of quilt project and I feel that I did that throughout the year.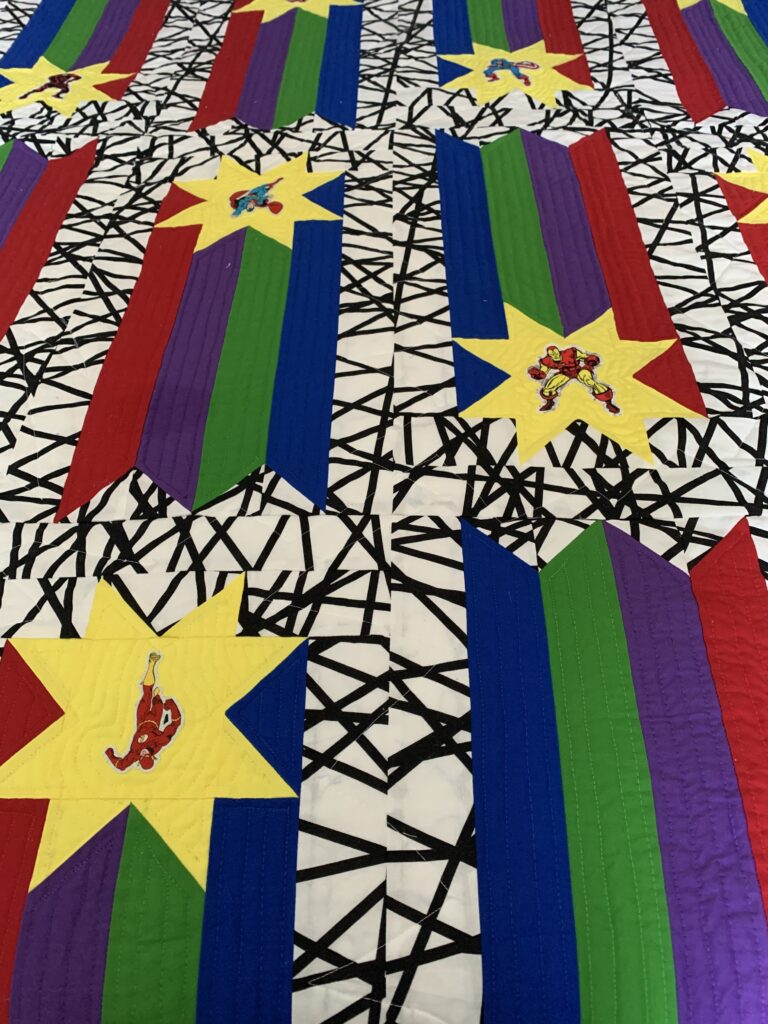 R: That looks like 11 quilts to me! You nearly doubled your goal! Amazing! Out of all of the quilts you made in 2021, my favorite is the one that you made for me and baby Buffalo, which is now hanging on my wall over the "nursery corner" of my room. But which one was your favorite?
A: Baby Buffalo's quilt is also my favorite. I liked it because it was a challenge to come up with the design. Also, I like the idea of quilts telling a story and I tried to make the blocks in that quilt mean something. If you ever move away, I hope you and baby can look at it for many years to come and remember our neighborhood. (But, you are never moving away, right?!!?) I also liked the fabric choices in that quilt. I think a mix of prints and solids in a quilt might be my current favorite look!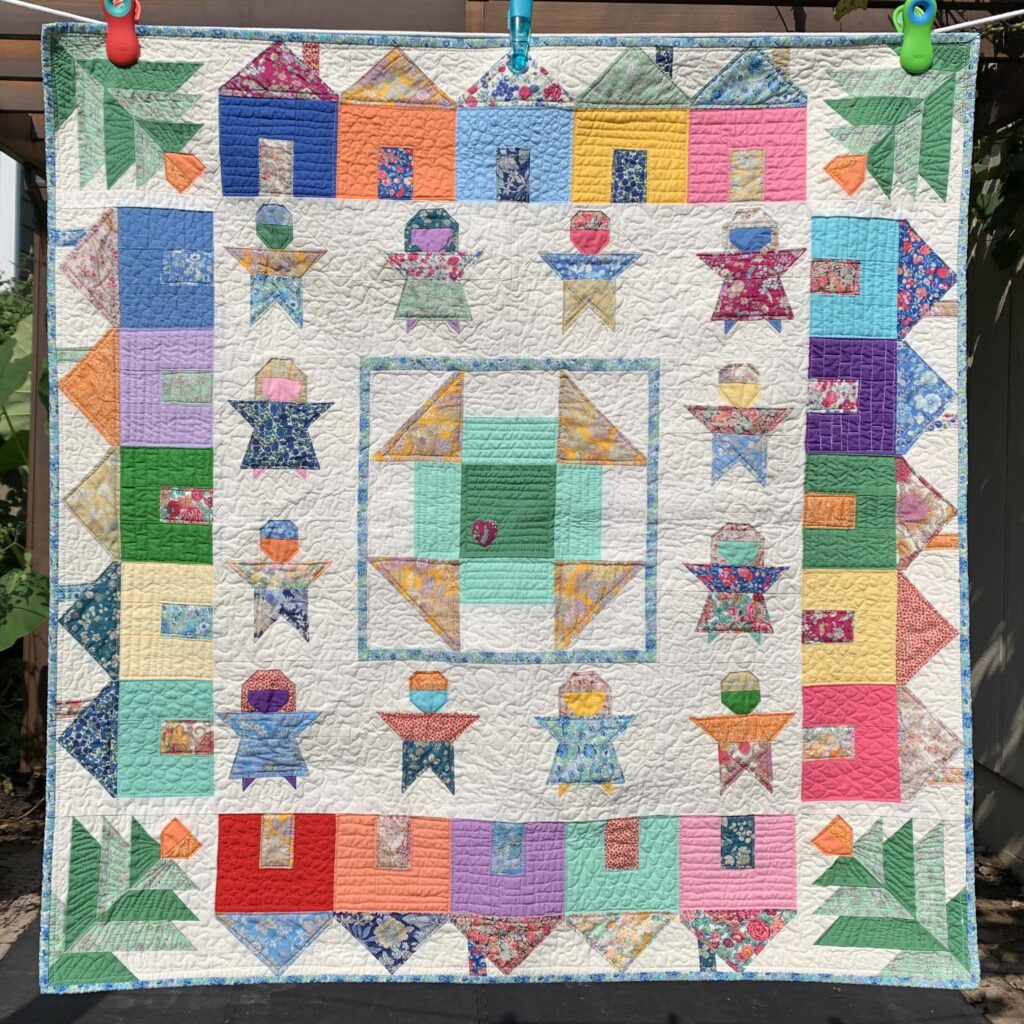 R: It is SUCH a great quilt!! And no, I'm never moving away.

What are some examples of where your inspiration came from this year? For example, any particular quilters you found inspiring? Or, maybe a particular quilt book you discovered and loved?
A: Spending a lot of time following quilters on Instagram has been super inspiring. Sometimes even in an overwhelming way! I have seen so many amazing patterns and ideas created by the quilters of the internet. It keeps my head spinning. As we say above, we spent a lot of time with Suzy Quilts this year! I am a longtime fan of Allison of Cluck Cluck Sew and I used her Wish pattern for Louie's superhero quilt. I even emailed her a picture of it and she emailed me back. It was like corresponding with a celebrity. ? On Instagram, there are so many amazing quilters, but I always seem to stop scrolling on posts from grapesodastudio, southerncharmquilts, cassandra.beaver, and mtnairhandmade.
I also bought two quilt books this year–The Modern Medallion Workbook and Make Your Own Medallion. I like them both. The medallion quilt patterns in both are very nice and also they have so many ideas for different borders, which I think will be useful in lots of different quilts.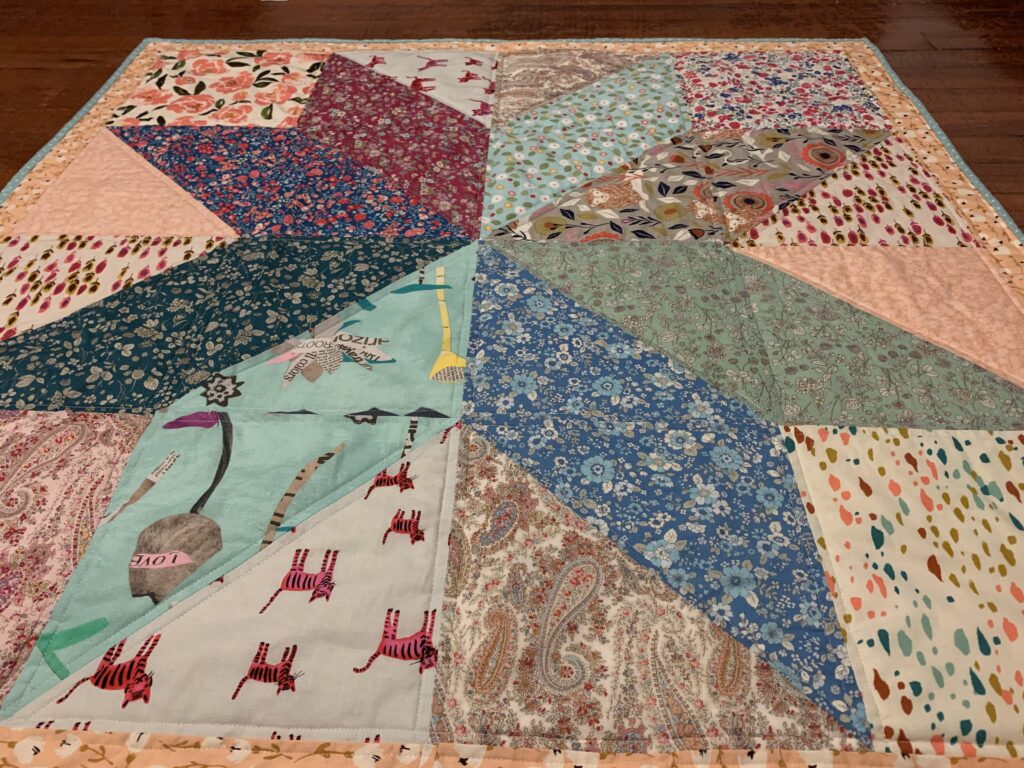 R. What are some quilting hot tips you learned?
A: I'm not sure I learned any hot tips that are not already known to most quilters. But, I have learned a lot that I didn't know before! For example, when I made the quilt for Baby Buffalo, I used a minky for the background because I wanted it to be cozy. But then, I did so much quilting on it that it ended up super stiff! When I quilted the "Christmas Explosion" quilt, which I backed with a flannel backing because I also wanted it to be cozy, I purposely left the quilting a little sparse. (I also finished it the day before it needed to be gifted and so I did not have time to add anymore quilting). Deciding on how to quilt a quilt continues to perplex me, but I think I've learned a little more about how to make that decision. Also, when I was quilting the Baby Buffalo quilt, the minky kept pulling through to the top. I had never had that happen before and it was super frustrating. I read a little more about it and I think I needed to use a finer needle to avoid that. I wasn't able to try that out because, once again, I finished that quilt the day before your baby celebration, but I now know I need to do a little more research before my next minky quilt.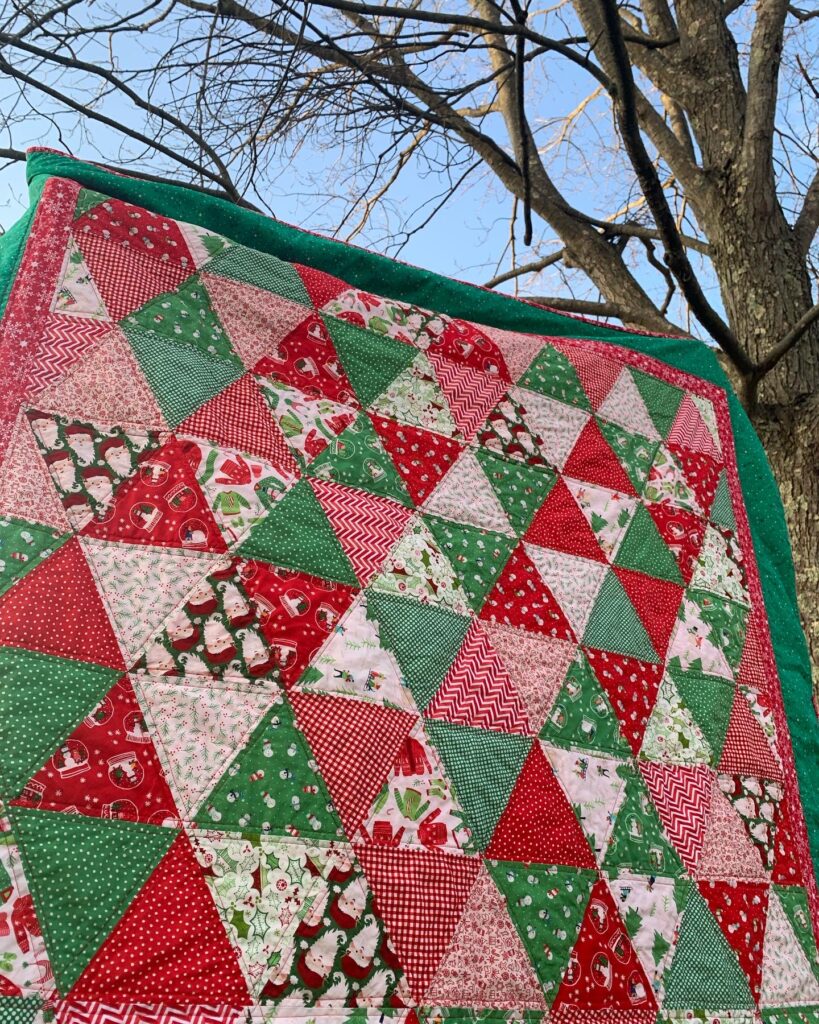 R: You said you wanted to work on free-motion quilting and designing patterns this year. Did you accomplish those goals and how did it go?
A: I did accomplish the goal of working on those things! Though, I still have a lot of work to still do on mastering both. I think my FMQ skills have expanded mostly thanks to my Juki! When I was working on Louie's superhero quilt I wanted to do some straight line quilting, but it was too hard to keep turning the quilt. I figured out (roughly) how to free-motion straight line quilt. Although, afterwards, I figured out that there is an actual foot for FMQ'ing with rulers and also special, thicker rulers. Maybe this year I will invest in those tools because they would make things go more smoothly, I think. I also did a ton of FMQ'ing on Baby Buffalo's quilt and tried out some new patterns, which went fairly well!
As for designing patterns, I did buy myself EQ8, but I would not say I have it completely figured out yet. For a Christmas gift, my parents got me an EQ8 lesson book that I am excited to find time to read!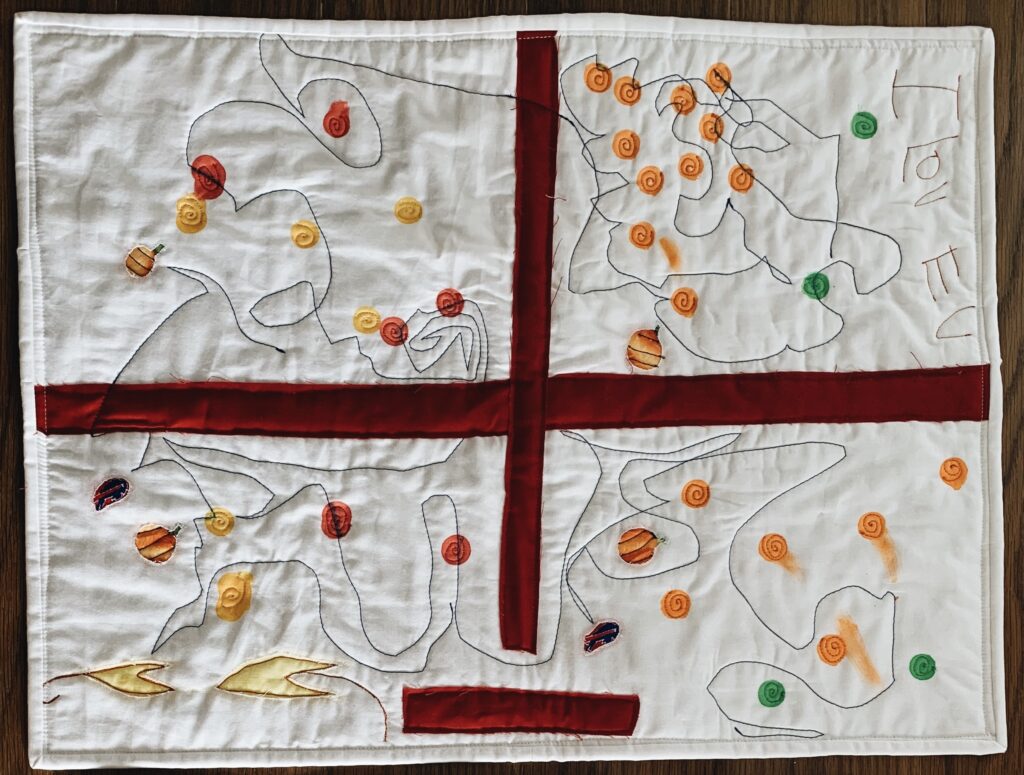 R: The quilting on Baby Buffalo's quilt is exquisite. Sometimes when I'm in the nursery corner, I just stare at all of the different designs you used. I especially love the little bricks on the houses.

What a great Christmas gift from your parents! Nice work, Pam! Tell me more about your experience with Electric Quilt 8. Do you have quilt patterns in your mind that you plan to execute in the future?
A: Ah yes, as I said above, I don't think I have it completely figured out yet. I sort of used it to make Baby Buffalo's quilt, but I did not end up making the whole pattern on it, which made things difficult. If I knew how to use the program the piecing of that quilt would have been so much easier! I did try to make a Christmas tree skirt pattern on it, which went well, but I ended up not having time to actually sew that pattern.
For Christmas, I got the EQ8 Designing Quilts book. I am excited to do the lessons in this book because I do think the program will be incredibly helpful once I know how to use it! Right now, I don't really have any ideas for patterns to make on EQ8, but hopefully something comes to me!
R: What's the status of your UFOs? I think that stands for "unfinished objects" but I could be wrong. Anything you are thinking of picking back up as Pittsburgh winter drones on?
A: Well, one night this week I started to cut out a pattern for a quilt coat. That is one of my 2022 goals, so I will definitely keep working on that! I also have been working on this never ending EPP project that I have kind of abandoned. Just this week I took it all the way to Texas and did not work on it at all! I would like to do something with it eventually. And then, I made my cozy lakeside cabin quilt top, which maybe I will pick back up and finish this year if there is a cozy lakeside cabin (or, lake adjacent townhouse) in my future. I also bought an insane amount of Christmas fabric this year and I hope to start some Christmas sewing earlier in the year to use it up!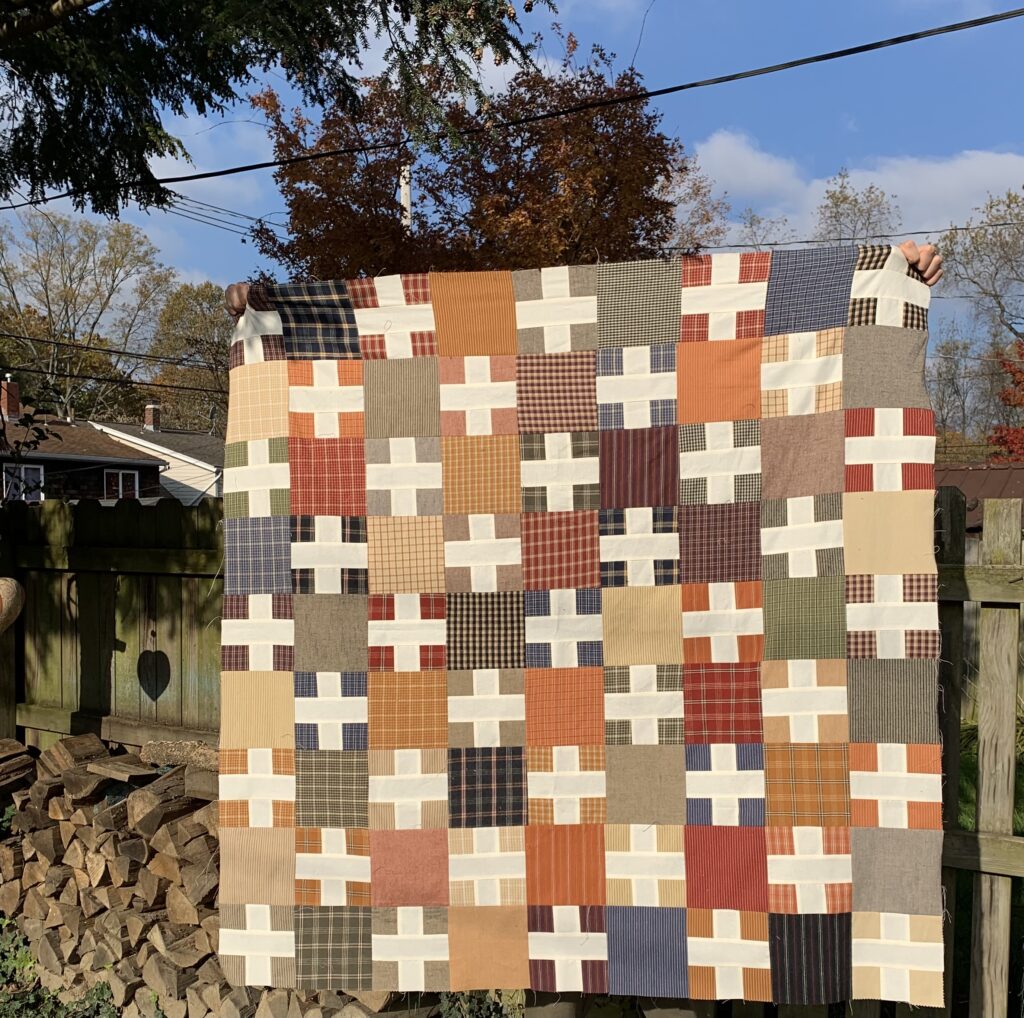 R: What are your #quiltgoals for 2022?
A: As mentioned above, a quilt coat! I remember the day you said to me that you wanted a quilt coat and I am going to be honest I was not on the quilt coat train at that point. But, you got me thinking about it and once I finally decided to board the train it is all I can think about! As you already know, last year I bought a quilt top at our neighborhood yard sale. My plan is to use that for my coat.
Also, in 2022, I would like to try to make quilts for my three nephews. They range in age from 1-4 and I have never made them a quilt. I am sure they are not losing any sleep over that fact, but it makes me feel bad!
When I wrote about the cozy lakeside cabin top, I said that I find it difficult to make a quilt for myself. So, in 2022, I want to be a little more thoughtful about my own quilt aesthetic. I spend a lot of time making quilts that are fun, but I don't particularly love looking at them. For example, Louie's superhero quilt, which is perfect for his five year old boy bedroom, but which is actually hideous in any other context. I often dive into making a quilt and then I realize a portion of the way in that I do not like it. This happened with the Christmas Explosion quilt as well. For this year, I want to try to make quilts that I like–and just maybe one of those will get to stay in my house!
In terms of the number, I agree with you that I don't have a set number this year. I just want to keep continuously working on some quilty project because it makes me happy! I am looking forward to seeing what we come up with in 2022!